Rising to stardom; KCBY-TV garners local and national awards
Lately, the KCBY-TV program at Coppell High School has been on a roll, garnering multiple awards at local and regional contests and national conventions.
After winning the prestigious NSPA Pacemaker award also known as the "Pulitzer Prize" of high school journalism in November, the program was named the regional winner in broadcast excellence by Student Television Network (STN), the program won the Best High School Film award at the Rising Star Film Festival and several members won awards at The Dallas Morning News High School Journalism Day and Competition last week.
The 2015-2016 year for KCBY-TV at Coppell High School has arguably been the most successful in history, bringing pride and honor to CHS.  
"For the school it's just another feather in our hat but the bigger picture is that [KCBY] will get the recognition that they deserve," assistant principal Melissa Arnold said.
In March, KCBY members John Coffee, Jack Dalrymple, Kevin Madigan and Alana Rood won awards at the local Rising Star Film Festival presented by the La Vie Theater at the Alexander Mansion.
Coffee, a sophomore aspiring self taught film director, had a taste of the professional world of movie making and the places his talent could take him at the festival. He discovered his passion while playing around on iMovie on his first computer and started creating videos for projects assigned to him.
After joining a media class in seventh grade at Coppell Middle School East, Coffee started entering his films in competitions at the high school and received very positive feedback from his viewers.  
"I was encouraged to work hard and was given cool opportunities, I felt very inspired in my media class," Coffee said. "When I made my first video, felt like my work was validated because it was shared with other teachers."
Coffee's film Here's to Running is a monologue centered around a high school girl pondering the meaning of life. Coffee's film and another finalist were tied until the festival had to bring in another judge to break the tie.
"[Mrs. Kennedy] is always giving us new opportunities, showing us new film festivals, and giving us ideas for segments," Coffee said. "She really inspires me to go out and put my work out there and go to film festivals and create stuff."
"
Our segment revealed a truth. I think that's what struck a chord judges and made them believe our segment a lot more"
— Ty Dalrymple
Actress Jessica Goode volunteered to play a part in her friend Emily Eden's short film and never expected to win such a prestigious award from the favor.
"I was stunned, originally I did not really have a reaction because I could not process what was going on," Goode said. "After that, it was pure joy then amazement that I had that in me,"
Goode played the tragic part of a depressed and vulnerable high school girl, creating a bond between the character and herself.
"It was not easy at all [to play the part]. It was very emotionally tolling because it's a very depressing part and it took a lot of research into schizophrenia and depression to be able to pull that part off," Goode said.  
On March 10-13, KCBY travelled to Atlanta to attend the STN Convention themed on southern hospitality.
The competition was set up so that the crew had six hours to film and two to edit, thus the name, the Crazy Eights competition. As a team, they produced a segment, centered on "southern hospitality" highlighting local residents living with AIDS/HIV who attend a support groups to cope with their disease and hardships.  
"Getting to know those people was really awesome and they were so nice; it was an incredible experience that day," junior Jack Dalrymple said.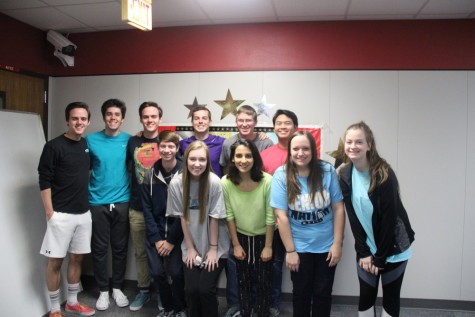 Jack Dalrymple, Ty Dalrymple and Madigan, as a team, won first place in the Man On The Street contest for uncovering Atlanta's darkest secret.
After talking to locals and sighting the park just outside their hotel, the focus of their one minute segment became apparent. When talking to a homelessness woman at the park, she told them them her life story and the seriousness of the homeless situation in Atlanta.
"Our segment revealed a truth. I think that's what struck a chord judges and made them believe our segment a lot more," Ty Dalrymple said. "It was ugly truth that needed to be said and no one else wanted to say it but we did."
The perfect mix of commitment and drive from dedicated KCBY members has led them to create high quality work, that can compete at the national level. The work done by this year's group has set standard high for the future of the program.
At The Dallas Morning News High School Journalism Day on March 30, Nick Wilson, MaryKathryn Ferguson, Jessica James and Autumn Jones won first place in the best video for their work highlighting the recovery efforts by Rowlett citizens after the December tornado. This group also won the Best Visuals Sweepstakes at the competition as well.
Duo Jack Dalrymple and Faith Parker won second place for the Best Video Award centered on CHS Junior Kara Williams overcoming scoliosis. Along with The Sidekick's win for Best Newspaper and junior news editor Sakshi Venkatraman winning the news reporting category, Coppell Student Media took home four awards.
"Was I surprised that we won? No, because they are just so talented and put so much into their product," Kennedy said. "It's very humbling and rewarding to know that this years group is working really hard."