Strong offensive show contributes to Cowgirl victory over Haltom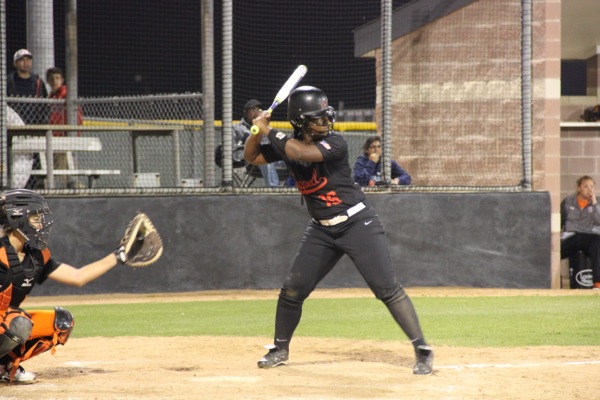 Coppell softball racked up another easy win on teacher appreciation night against Haltom leading to a short game of five innings by the mercy rule. The Cowgirls continued their winning streak (5-7 overall, 4-3 in District 7-6A) by blanking the Lady Buffaloes, 10-0, at the Coppell ISD Baseball/Softball Complex.
The Cowgirls scored five runs with two outs in the first inning and finished the abbreviated game with 15 hits.
"The important thing right now is what we have been able to accomplish in the last three or four games, we have been able to play since Richland, we've been able to play consistent ball," Coppell coach Mike Dyson said.
Strong offensive plays by senior outfielder Julia Sircar as she stole second and then third base, followed by junior outfielder Mia Hermans single driving Sircar home. Later in the inning, senior infielder Autumn Redmon hit a line drive to right field, bringing two runners in, making the score 5-0 at the end of the first.
The Cowgirls entered the fourth inning leading 7-0, hoping to increase their lead. With two outs, and an empty base in front of her, Redmon took second. Following Redmon, junior infielder Beth Briscoe hit a double into deep right field, scoring Redmon; giving Coppell a nine run advantage going into the fifth inning.
With strong pitching from freshman starting pitcher Nora Rodriguez, the Cowgirls were up to bat in the bottom of the fifth inning. Sophomore infielder Logan Kegley doubled off the center field wall. Later, junior catcher Maddie Traver sent a line drive into right field, scoring Kegley from second, ending the game with a 10-0 Cowgirls victory.
"Today, I think it was a matter of mixing the pitches up with speed and change ups and Maddie calling a good game,"  Dyson said. "That is important, and you have the whole team behind them, the other eight, contributing, it all gets back into [the game]."
Coming off of the victory against Haltom, the Cowgirls will play their remaining five district games in their quest for a playoff berth, hoping to continue improving as a team in their next game against L.D. Bell at home April 1 at 7:15 p.m..
"So now what were are going to do is start over, we are starting over again with LD Bell, who beat us 13-3 and that game will be very important in seeing where we will go," Dyson said.