Most anticipated young adult novels of 2016
The year 2016 has begun meaning the embarkment of Young Adult (YA) novels awaits. Many authors are debuting their series as many are returning and captivating the world of teens.
The most soon-to-come novels are going through the process of revision and publishing, and will soon arrive into bookstores: fresh and crisp, bringing a tinge of excitement through the reader's spine. But through the bundle of novels that lay ahead, here are the most anticipated of 2016:
Lady Midnight

by Cassandra Clare
Lady of Midnight is a new book featuring all the characters that survived The Mortal Instruments series. The first book in the series The Dark Artifices, takes place in Los Angeles as Emma Carstairs and her best friend, Julian Blackthorn, solve a murder that could possibly relate to the death of Emma's parents. This book has fans of The Mortal Instruments going berserk as they await to read a new series by their favorite author, which will be released on March 8.
Untitled Throne of Glass

book (Throne of Glass #5) and

A Court of Mist and Fury

(A Court of Thorns and Roses #2) by Sarah J. Mass
Beloved author Sarah J. Mass, is currently juggling two books, the fifth book in the Throne of Glass series and the second in A Court of Thorns and Roses series. The Untitled Throne of Glass book, which is to be released on Sept. 6, continues the adventures of Celaena as she struggles to claim back her kingdom and figure out who Aelin is, all while fighting for her loved ones. A Court of Mist and Fury, Mass' other series to be released on May 3, centers around Feyre who just received the powers of the High Fae, and must keep her promise with Rhysand and help Tamlin rule the Spring Court. Both these books are highly anticipated as Mass has sold over a million copies of her first book, Throne of Glass, and has fans sitting on the ends of their chair.
Passenger

by Alexandra Bracken
From Bracken, the writer of the popular series The Darkest Minds, Passenger is a woven tale about a young violinist, Etta, who loses everything as she travels years from home and winds up on the ship of Nicholas Carter. The story continues as they search for the stolen object and the reason behind Etta's appearance, building a treacherous adventure of hope, despair and struggle, while churning the brains of the readers as they piece together the clues. This book was released on Jan. 5.
Glass Sword

by Victoria Aveyard
Aveyard's debut novel jumped the charts as many readers begged for a second book to the Red Queen series. Mare Barrow's red blood should make it impossible for her to have powers, yet she does and the crown is not pleased, thus forcing her to escape the kingdom in search of fighters to join her cause and fight back against the kingdom. This anticipated book is to be released Feb. 9 and already has people screaming with brawls of excitement.
Frost Like Night

by Sara Raasch
Frost Like Night is Raasch's final book in her first series, and is expected to be released Sept. 20. This trilogy embarks on the journey of Miera as she battles with the Kingdom of Spring in order to regain her land back, only to have it once again stolen by the Kingdom of Cordell. This book embodies Miera's struggles as she decides whether or not she wants to open the magic chasm. The consequences of her actions will entice readers as they watch an ordinary girl jump the reins of her kingdom.
These anticipated books along with others such as Truthwitch by Susan Dennard, The Last Star by Rick Yancey, Heartless by Marissa Meyer, have YA readers anxiously watching the days pass by with each second getting closer to the release of these books.
About the Writer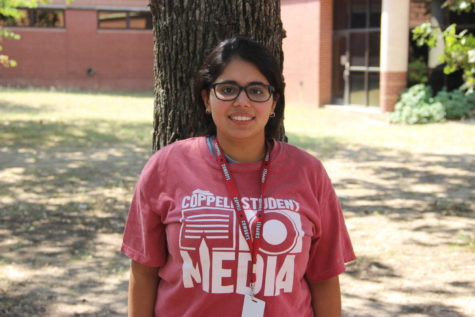 Farah Merchant, Co-Student Life Editor
Farah Merchant is a senior and third-year staff writer and Student Life Editor on The Sidekick. She also works for the Citizen's Advocate, the local Coppell...