Three celebrities dead, legacies left behind
People die everyday. Some go without warning, being known or die surrounded by family, but each person leaves behind a legacy. Last week, we said goodbye to three celebrities that changed the media we see today.
English musician, artist and songwriter David Bowie, English actor and director Alan Rickman, and American actor Dan Haggerty, have died this past week.
Bowie and Rickman died at the age of 69, within one four days of each other. Haggerty at the age of 74 within the week, all three men dying of cancer. While the works of these legendary men will live on, we will continue to pay tribute to them for their talent and their ability to bring smiles to our faces.
From the beginning of his career and all the way to the end, Bowie changed the way we think of rock music.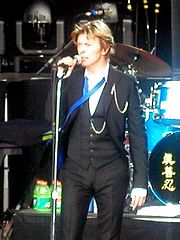 Bowie's career begun in 1963; reaching the top of the British Billboards in 1969 with his hit "Space Oddity." In 1972, he re-emerged, edgy for the era, as the flamboyant Ziggy Stardust, a glam rock musician. However, this phase of his career did not last long, as he changed his sound and image again in 1975, with his top hit "Fame," which made it onto the American Billboards.
Bowie experimented with different genres of music, often combining rock with another type to create a unique sound. He is very famous for his 1977 album, "Low," where he merged electronic type cadences, better known today as autotune, with his records that changed the game of music forever. He also worked with Queen on the hit, "Underpressure" released in 1980.
While his career peaked in the 80s, Bowie continued to change his sound, which can be attributed to how he sold 140 million records worldwide throughout his career. He was inducted into the Rock and Roll Hall of Fame in 2006, and was actively making music until his death of liver cancer on Jan. 10. His most recent album, "Five Years", or the remastered versions of his top hits from 1969-1973, released in 2015, the last works of the iconic singer before his death.
Moving from the stage to the big screen, Rickman played complex roles throughout his career, which some could say was due to his unique voice and skill of taking on every character he played. He was a member of the Royal Shakespeare Company at the beginning of his career in 1978. Rickman first began his career on television in 1982, but achieved his first big role in 1985 in the televised English production "Les Liaisons Dangereuses," as the character Vicomte de Valmont, where his sublime talent and skill won him a Tony Award.
Rickman had many smaller roles throughout his career as well, but the ones he is most known for were his portrayal of Hans Gruber in the hit movie Die Hard and Severus Snape in the Harry Potter series. Throughout his career he also was nominated for various awards ranging from the American Golden Globes and to the British BAFTA Awards, landing him nine major awards. Rickman remained active until his death of pancreatic cancer on Jan. 14, and although deceased, has two movies where he voiced characters, scheduled to premiere later this year.
American actor Dan Haggerty, famous for his title role of Grizzly Adams in the 1974 american movie, "The Life
and Times of Grizzly Adams," as well as his later role in the NBC film television adaption of the film which aired from 1978 to 1979. Before his major role, Haggerty began his career with appearances in Easy Rider, Angels Die Hard, The Adventures of the Frontier Fremont and Terror out of the Sky. He worked at Walt Disney Studios as an animal trainer for the films, "Tarzan," "When the North Wind Blows" and "Grizzly Mountain" in 1997.
Haggerty worked as an infomercial spokesman for the Pap-Ion Magnetic Inductor in the late 1990s, and held supporting roles throughout the later years of his career until his death on Jan. 15 of spinal cancer.
Over the past decades, Bowie, Rickman and Haggerty worked on various albums and films allowing each man to leave behind a legacy; whether it is a new genre of rock-n-roll, changing the game of acting with an unparalleled portrayal of antagonists, or creating American classics – our world has lost three of the greats.