Christmas comes early in Fort Worth
FORT WORTH – From jewelry to bacon toffee to Christmas ornaments, last Saturday's Christmas in Cowtown Holiday Market hosted by Fort Worth's Junior League made attendees smile with holiday cheer.
The Junior League of Fort Worth is an organization run by women promoting voluntarism and their mission throughout the county. They create many fundraisers for non-profit agencies which provide assistance for whatever is needed.
Junior League member and Out on a Limb Boutique Owner Candace Schoephlin thinks the market can really help out the community.
"It gives us an additional exposure to small businesses [and] charities," Schoephlin said. "It's great because it meets several different needs in the community."
Out on a Limb Boutique has participated in the holiday market since 2007.
South Austin Gallery makes homemade art and ceramics, and has participated for two years.
"Everything we have is from Austin," South Austin Gallery owner Jennifer Worth said. "This gives us customers from outside our area and puts us on the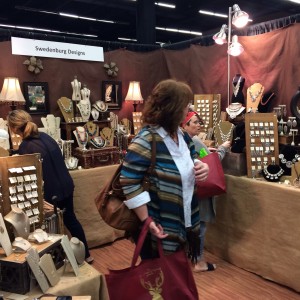 map."
Shoppers had more to choose from besides clothing and jewelry. Food venders such as Not Your Mama's Kitchen, Inc. and Mother Shucker's
Tamales provided food samples and other gifts.
Fort Worth resident Wendy Cooper visited the market for the third time this year.
"[It's] awesome," Cooper said. "I'm a teacher so anything that gives back to the community I'm there for it."
The holiday market is also a great place for companies to show off some unconventional and unique products.
"People love our products," Tanya Puhon, owner of Little Bow Diddly from Broussard, La. said. "We don't offer clothes, just gifts. The junior league allows people hear about us that normally wouldn't. The Junior League is great – it all just goes back to the community."
All proceeds from the market are donated to local charities such as Tarrant County Food Bank, Fortress Youth Development Center and Catholic Charities.
Christmas in Cowtown will be back next year with even more venders to get you a head start in gift giving and capturing the holiday spirit – even if it is a couple months early.