Yearbook staff reigns in highest level of ranking, procures individual awards
By Summer Crawford
News Editor
@summercrawfordd
Every year there are thousands of national and state conventions for a diverse range of school clubs and activities. For the Coppell High School yearbook Round-Up staff, the two most vital competitions are the state Interscholastic League Press Conference (ILPC) in Austin and the national Columbia Scholastic Press Association (CSPA) in New York City.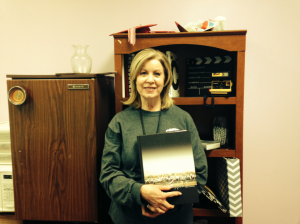 The yearbook staff has recently learned about last year's book moving up to the highest level of ranking at ILPC, obtaining the Award of Distinguished Merit. Yearbook teacher Sallyanne Harris describes the process of submitting the book and the steps taken for judging.
"We submit the book before December, [we] send it in and a group of state judges will review it and evaluate it based on about 15-18 different criteria," Harris said. "I'm really proud that last year's yearbook staff took it upon themselves to create and produce an award winning book. They really took the steps to move up to the top level, it was all up to them and they did it."
Certain factors, such as a dedicated and diligent staff, contributed to CHS' success. Harris believes that this recent accomplishment only gives more fuel to their progress.
"The staff did an amazing job of coverage, making sure that the entire school was covered and that the events of the year were covered," Harris said. "The photographs and the writing were all amazing. It gives us a high bar to continue to step up to and hopefully step over and continue to do better and better every year. I see that happening, so it is a great encouragement to us."
Along with the whole staffs' triumph, there were also individual awards given to yearbook students across the nation. Among the 4,646 CSPA entries from students at colleges, universities and high schools was CHS senior Maggie Hohfeler and 2014 graduates Sarah Gibbons and Francesca Graham. Hohfeler was awarded second place in Academic Writing while Gibbons and Graham won honorable mentions.
"The [CSPA] ranked our book and gave us a gold medal [earlier in the year], then we sent in individual achievement awards like individual spreads, photographs and stories," Harris said. "Maggie's story was a story on the 'Science' page, she won second place in the nation."
As the current People Section editor, Hohfeler was pleasantly surprised to be one of the few individuals selected in the entire nation.
"It felt surreal, there is so much talent out there and I feel honored to even be considered for the award, so placing made it that much more special," Hohfeler said. "[My] story was about kids getting outside of the classroom and doing really interesting things in forensic science. Who wouldn't want to read about students who love what they are learning about?"
Having a deep-rooted passion for yearbooks played a big part in Hohfeler's success. She and her fellow staffers have a family atmosphere that Harris believes contributed to an incredible yearbook.
"I love yearbook because I'm creating something that will last forever," Hohfeler said. "I also love the people in yearbook. We can make memories and be total goofballs, but we also work really hard. I love being a part of a staff that is supportive and encouraging, too."
Going above and beyond on their own initiative helped secure the 2013-14 book a spot in the highest level of ranking. The team will travel to Austin in April for the ILPC contest in hopes of gaining more staff and individual recognition.
"They have really pushed the limits with excellence, they really have shown a new type of leadership that I haven't seen before and they have the highest standards that I have seen in a long time," Harris said. "This year's staff is amazing because they work together so well and the leaders have this wonderful way of leading without being bossy, they are able to encourage the staff to get the job done. We are hoping to win individual achievement awards for various spreads or photos or stories."