Self defense class teaches senior girls important skills
By Shruthika Pochampally
Staff Writer
If you go to the Coppell Middle School East on a Tuesday night, chances are you will find high school girls karate-chopping and kickboxing throughout the gym.
Coppell High School started offering a self defense course in 2004 for senior female students and has offered it every year since. The Coppell Police Department first started a self defense class for women, and soon decided to start a separate program for senior girls, which is now a class offered by CHS and New Tech [email protected] offered outside of school hours.
The course's popularity has grown throughout the years.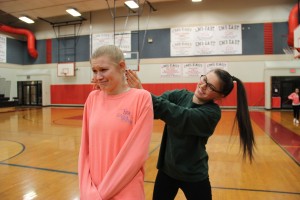 The class description states that self defense not only keeps girls safe in dangerous situations, but also makes them more confident. It is designed to give young women "a sense of awareness" and prepare them for the outside world, as they often leave high school for places far away from home.
It is meant to teach girls how to defend themselves in dangerous situations, develop a higher sense of awareness and give them the mental strength they need to fight back if confronted. Officer Peter Dirks, one of the instructors of the self-defense class, loves teaching this class to his students.
"I want to teach this class to help these young ladies protect themselves as they go out into the world for college or work," Dirks said. "I feel it is important that they have the skills to recognize danger and escape the threat or fight it. I like helping them learn new things and get their minds thinking about what could happen, so hopefully it never does."
Those that take the class said it is not only a good class, but also one which will benefit them in the long run. CHS senior Nikita Paturu said she was first interested in taking this class when she heard various stories about women being assaulted.
"After hearing all these stories, I learned that the world isn't as safe as I thought it was. I wanted to prepare myself for the worst by taking this class," Paturu said.
Students in the class have had no regrets. Not only is the class beneficial, but their instructors are also very informative and helpful. Self defense is a PE elective, and students who have already completed their PE requirement for graduation are eligible to take the class.
"A good thing about this class is that our instructor teaches us not just physical ways to defend ourselves but verbal ways as well," Paturu said.
Dirks said that one of the goals of the program is to empower the student to be a survivor and not a victim. However, the most important goal for the class is not to teach the girls self-defense tips, but to give them the confidence to defend themselves when needed.
"The one skill I hope the students get from this class is how to recognize real threats to their personal safety. What is taught in the class is not foolproof or appropriate for every situation, but it does give the students confidence to know they may have an option; a tool they can use if needed," Dirks said.
As for recommending this class to future senior girls, most students give the program five stars.
"Everything about this class is great, because I learn something new everyday. I would definitely recommend this class to every senior girl because its always good to be prepared, especially when it gets time to go to college on their own," Paturu said. "It's never a bad idea to be prepared for the worst."
Mental imaging and scenario-based drills are both methods presented to students in order to prepare them to better defend themselves if necessary. The course consists of six classes, five of which are spent learning self-defense tips and instructional, while the sixth is a jovial face-off between the students and instructors.
"My favorite part of the class is the sixth and final class," Dirks said. "This is where the girls display what they have learned with incredible courage and fighting spirit. Traditionally, the last night of the course is the padded suit sparring drill. Each girl takes a turn at the officer in a padded suit to demonstrate all that they learned throughout the course. The officers involved are always proud of the girls for their effort and enthusiasm."