Kim, Rohde receive honorable mention for Multimedia Feature Story of the Year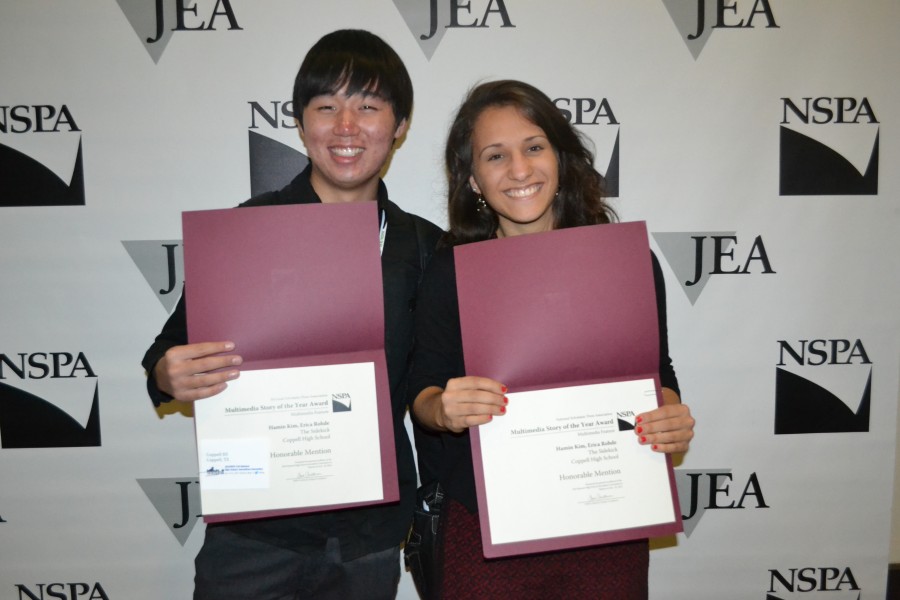 By Elizabeth Sims
Enterprise Editor
BOSTON- After three days filled with convention-going, sight seeing and bonding, the 2013 JEA/NSPA Fall National High School Journalism Convention was capped off with an awards ceremony to recognize the best works in publication and individual categories.
KCBY program director senior Hamin Kim and 2013 Coppell High School graduate Erica Rohde of The Sidekick were finalists in the competition for Multimedia Feature Story of the Year for their feature package on North Lake College sign language professor Barb Armistead who has taught her three dogs, two of which are deaf, sign language. The competition was tough as there were seven finalists, three of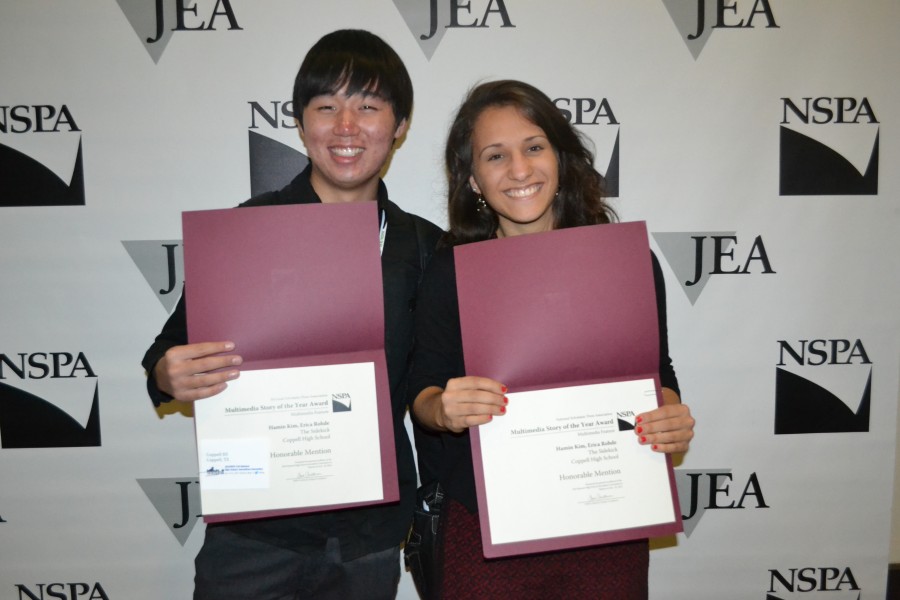 which would receive awards and the remaining four would get honorable mentions.
Rohde, who currently attends the University of North Texas, and her family flew to Boston so they could be present for the awards ceremony. Early on in the ceremony the Multimedia Stories of the Year were presented, Kim, who made the video for the piece, and Rohde, who wrote the story, received an honorable mention and the recognition of being one of the top seven multimedia stories in the nation.
"Hamin and I had such a blast doing this story. That's what journalism is about, just having fun with what you are reporting on. To receive an award for it is just a really cool thing," Rohde said.
While Kim is excited to have received this award, he is already looking ahead to competitions in the spring to show his skills and those of the staff of KCBY.
"It's an honor to get this award and I'm just really happy. I think it's just the beginning with [the Student Television Network competition] in March, and I think we are going to do even better overall with the staff of KCBY," Kim said.
For the Rohdes, this was a time to be together as a family and support their daughter and the high school she attended.
"We knew this was a very important award to her and to the school. None of us, as a family, had been to Boston and with something this important we had to come and support her as a family and we've had a great time," Erica's father, Bernard Rohde, said. "We are very proud of her and we would have come to support her regardless of where it was."
After receiving an honor in this category for the second year in a row, the Coppell media publications have not only developed a sense of pride for their convergence (video/feature story packages) pieces, but they have gained respect for the efforts put forth by each member of the staffs.
"I like that it's the media category because we place such an emphasis on convergence and having that video presence and partnership for our website so it's kind of neat that the two finalists we've had have both been in that category," newspaper adviser Chase Wofford said. "It's really a credit to [KCBY adviser Irma Kennedy] and her kids for making those video pieces. They made the video editing part happen while [The Sidekick writers] stepped in more as the reporters. They used their skills in video to make it artistic but also informative."
As the high school journalists head home from their experiences in Boston, they now have one more award to add to their plethora of recognitions and honors, and even more hope for success in future competitions.