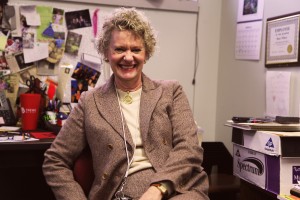 By Natalie Gilbert
Staff Writer
Heavy workloads and extra curricular activities makes school hard on even the healthiest of students, but the level of difficulty for students who have disabilities or diseases is taken up a notch.
This is where Betsy Wilcox comes into play. Wilcox is an employee for Coppell Independent School District, however, she does not necessarily teach at a CISD school. Instead, she teaches at homes around the community. She is a homebound teacher for students who have encountered injuries or diseases serious enough to make the student miss at least a month of school.
As it may seem, this job is not an easy one. According to Wilcox, many tasks outside of the job description are vital to be successful with students and their parents. These tasks include a variety of necessary abilities from creating relationships with her students' teachers to having to endure the loss of a student.
Despite the hardships Wilcox bears, she loves her job. She will be retiring at the end of the 2012-2013 school year.
Wilcox has worked with hundreds of students over the 24 years she has held this position and has loved every one of them.
Walking into room B231 the first thing you notice is her photo-filled wall, which from a guest's perspective consists of pictures of her students, notes they have written her and pictures they have drawn for her, but for Wilcox, it is a wall of memories.
After working with kids who have had severe diagnosis or been in accidents, Wilcox has learned to go into each student relationship based on hope. Throughout her years, most students have retrieved their health, but certain circumstances have not ended as hoped, which according to Wilcox, is the hardest part about her occupation.
"You have to have a sense of humor, you have to have spiritual strength and you have to go into each relationship with the attitude that this [student] will be fine," Wilcox said.
Parents of the students Wilcox works with rant and rave about the wonders of support she provided for their children and themselves.
CHS Spanish teacher Yvonne Arista also had a child who was taught by Wilcox. Arista's son Christian needed to have open-heart surgery as a sophomore at CHS and then as a junior went through surgery to remove a tumor in his liver.
Wilcox was the contact between Christian and CHS. She would arrive at Christian's house ready to work if he was, always taking health as a priority and knowing when to work or when to rest.
Wilcox played an important role in Christian's life as well as his mother's.
"She would make me feel at ease because I was so worried about his health and his school," Arista said. "She always put things in perspective with me and say his school is important, but his health is more important."
Describing Wilcox as a positive influence, Arista said she could always bring a smile to her son's face, which was difficult during a tough time.
"She has this way with kids to where kids just adore her," said Arista, whose son unfortunately died from his illness. "It was a great relationship between the teacher and student. She treated Christian with respect, and he looked forward to her visits and working with her."
CHS 2006 graduate Diana Singer was diagnosed with pancreatitis the spring of her junior year.
Because of her diagnosis, Singer was in the hospital more days than she was out; therefore, she was in need of a homebound teacher.
From the spring of her junior year throughout her senior year, Wilcox helped Singer continue her courses and achieve the nearly impossible: graduating with her class.
"I whole-heartedly credit me graduating on time to Mrs. Wilcox," Singer said. "There are not the words to describe how amazing she is."
Singer and Wilcox's friendship continued even though homebound teaching did not. Singer's studies continued through college as she attended Texas Christian University.
Today, her and Wilcox maintain a relationship and keep in touch.
Based on the statements of Arista, Singer and the others Wilcox has worked with, she has a contagious positivity about her that shines in every situation.
Because of this and Wilcox's other distinctive qualities that made her such a success at her job, Wilcox's retirement is a loss for CHS.
"[Wilcox's retirement] is a big loss for Coppell," Arista said. "She is irreplaceable, and no one will be able to fill her shoes."
When asked about her decision to retire, Wilcox said it would be hard to leave her students, but with a daughter moving in from New Zealand and a grandson, Wilcox wants to be able to spend time with and take care of family.
"When a flower gets old sometimes it loses its smell," Wilcox said. "I am not young anymore, so I think it is time to pass the torch onto someone new."