Coppell stings Yellow Jackets, 40-3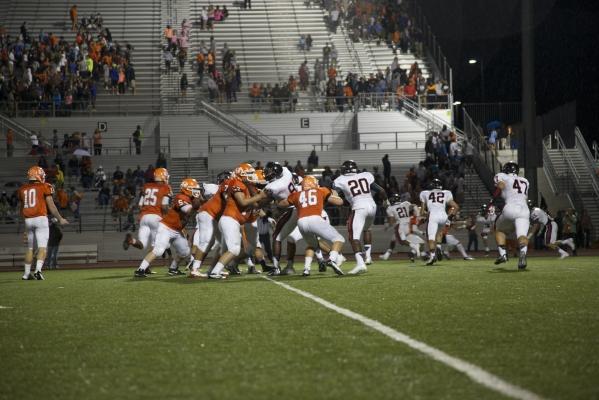 By John Loop
Sports Writer
Storms didn't have any chance to extinguish the red hot Coppell offense, as they easily led a 40-3 rout of the Rockwall Yellow Jackets.
Senior quarterback Colby Mahon threw for 153 yards and three touchdowns, two of which fell into the hands of senior wide receiver Cameron Smith. Smith added 67 yards receiving on four receptions on the night.
Smith corralled Mahon's second pass attempt of the opening drive and took it 30 yards for the first points of the game. The pass was the final play of a series that lasted a mere 4 plays, taking just under a minute off of the game clock.
"Its our first drive that we started out productively this season," Mahon said. "We plan on moving forward from there, as far as how we start every game."
The running back tandem of junior Gavin McDaniel, who accumulated 70 yards on 11 carries, and senior Luke Jenner, who amassed 46 yards on nine attempts, both scored at least one touchdown each. McDaniel rambled into the endzone on a 42 yard scamper, and Jenner scored on both a four yard run and a 19-yard pass from Mahon.
The defense stopped Rockwall's sophomore running back Chris Warren in his tracks the entire game. Warren only gained 88 yards on 19 rushes. The Yellow Jacket offense looked lethargic, managing to not even get close enough to smell the endzone.
"We knew we had to play our best to stop one of the best in Chris," senior middle linebacker Cole Odette said. "We held our own on the line and did not let them push us back at all. The D-line got some great pressure and forced them to make some costly errors."
Junior defensive end Solomon Thomas led the way for the Cowboys with a blocked field goal, which senior middle linebacker Tanner Masters returned 85 yards for a touchdown.
In giving up just three points tonight on Rockwall placekicker Tyler Bonny's 28-yard field goal, the Coppell defense tops the list of all area 5A teams in total points allowed with 17 over the last three games.
The special teams unit also gave the coaches something to get excited about. Junior defensive back Troy Parker recovered an onside kick late in the first quarter. Two blocked extra point tries seemed to be the only mishaps of the night.
With his three touchdown tosses tonight, Mahon moves into thirteenth place in the area in passing yardage with 633 passing yards, 9 touchdowns, and no interceptions.
Coppell also forced three fumbles, giving the Yellow Jackets a total of eight over the course of three games.