Five things for Coppell Athletics to improve next year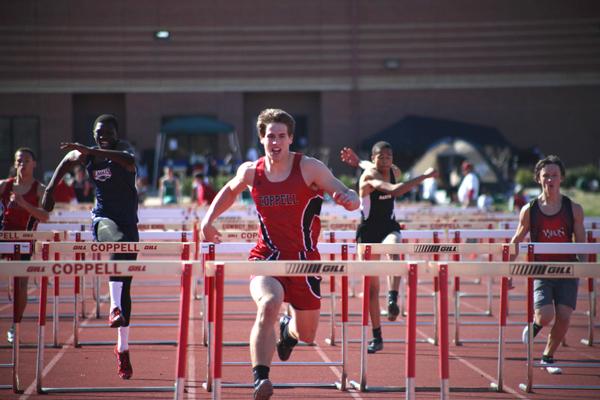 By Lance McCaskey
Staff Writer
After what many considered a lackluster year of Coppell athletics, excluding the state championship of the volleyball team, it's clear that we have rebuilding to do, and we need to do it fast. Here is the top five things that we have to do to become a successful program next year.
1. Quarterback and Offense Need Some Help
 After the injury to Jake Larson and the firing of Mike Dormandy, the Cowboys football team was left in disarray on the offensive side of the ball. Two young, and unproven quarterbacks came in, and a spread system too complicated to function was abandoned.
A new, running based system was introduced, but what good does it do to have a running system that routinely runs the ball outside and on sweeps? We don't have the players to run the spread, and we don't have the players to run a sweeping running system. We have the players to play power football. That should have been the focus from day one last season, but instead, we found ourselves out of the playoffs looking in.
The Cowboys had problems, and we all knew it. No loss made it more clear than the loss to Justin Northwest that the Cowboys had work to do. If they want to become a legitimate contender for a state title again, they will have to completely reshape and rebuild the offense, from the ground up, and find a way to put points on the board.
2. Boys and Girls Soccer Need to Find Success in Playoffs
 All this year, all I heard about the soccer teams were their spectacular state and national rankings, and how they were a lock for the state title. However, despite what is a clear amount of talent and potential, the Cowboys and Cowgirls both exited the playoffs in the first round, losing to significant underdogs.
Every year we have come to expect a quality soccer team, and every year they exit the playoffs in a seemingly un-timely manner. If we want to become a state power in all athletics, which I am sure most of us at this school do, it starts with the teams who are already ready to take state. Both soccer teams need to prove next year they have what it takes to compete on the playoff stage.
 3. Baseball Out in First Round
 It is no secret that I am not a big baseball fan, but after a guaranteed state title from new coach Kindle Clark, you start to pay attention. With what seemed to be a good amount of talent, and a solid regular season, the baseball team was our second chance at a state title this year.
However, like the soccer team, the baseball team was swept in the first round, unable to win a game in the 2012 playoffs. We know we have talent, and we know this team has what it takes to win. They are in the same spot as the soccer team, needing to find success in the postseason to prove they belong amongst the elite in the state. This team needs to find a way to win next postseason to show they are a constant contender for the state title.
4. Cross Country Fails to Advance Out of District
 One the lesser known and followed sports at the school, cross country, had big dreams coming into this season. The 2007 boys team went to state, but the team has failed to advance out of district since. They are the Dallas Stars of the cross country world.
This year was supposed to be different. With a new, committed group of varsity athletes, they were expected to at least advance to region in Lubbock. However, failing to place anyone in the top 10, cross country once again failed to advance. The cross country team, running only one senior at district, is a young and hungry team that will shock the world next year, and prove our schools as one of the top in running athletics.
5. Lacrosse Ends Streak of State Titles
 After a back to back to back state title run, the Cowboys lacrosse team failed to advance past the first round of the 2012 playoffs, a familiar tune in Coppell athletics this year. After losing a core group of important seniors last year, the new and unproven Cowboys made a name for themselves by beating the eventual state champions Highland Park, and other state powers.
Although they did not advance this year, the Cowboys showed promise, and proved they are still one of the powers in Texas lacrosse. They will lose 15 seniors this summer, and will be forced once again next year to prove themselves one of the elite in high school lacrosse.