Injuries bench college plans for Johnson, Ellis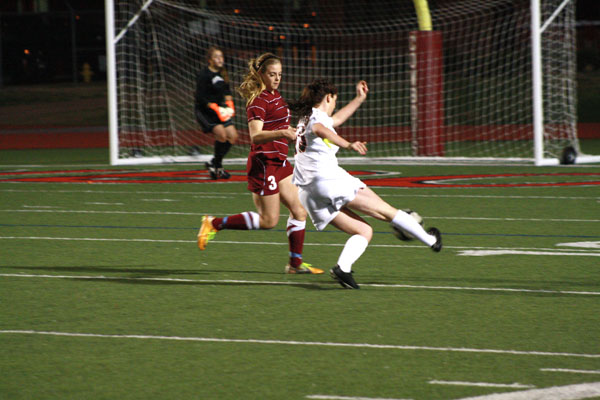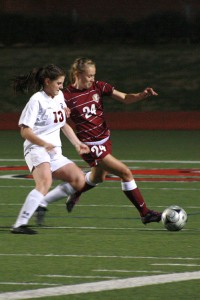 By Kristen Shepard
Staff Writer
It's a high school athlete's worst nightmare: just before they gear up for the upcoming season at the college of their dreams, they sustain an injury that changes everything.
For Coppell High School seniors Phillip Ellis and Kasey Johnson, college dreams are being put on hold as injuries have slowed down their race to college level sports. Johnson's torn ACL and Ellis' torn Labrum have caused them to sit back and reevaluate their college plans.
Midway through the Jan. 12 game against Midland, Ellis noticed a sharp pain in his shoulder, yet continued to power through the game.
It was not until he visited athletic trainer Barry Jones after the game that Ellis realized the severity of his injury. Ellis had torn his labrum in his left shoulder.
"Nobody wants to be injured, especially in the middle of the season," Ellis said. "I did not want to hear that I was injured and needed treatment, but I also wanted the pain to go away. I did not want to let the team down."
At this point, Ellis knew he wanted to follow his brother, 2009 CHS Graduate and forward JR Ellis' footsteps and play soccer at St. Edwards University in Austin, but was not sure how his injury would change this plan.
"The hardest part of my injury was finding out what I could and couldn't do," Ellis said. "I am an active guy and wanted to play intramurals and practice with my team. I just was not sure what would be best for me. My college commitments are my priority, and I did not want to do anything that would make me not able to play at St. Edwards."
When Ellis received the news that he would need surgery for his torn labrum, he knew his college plans would be put on hold. The four to six month recovery associated with the surgery would almost guarantee that Phillip would redshirt his freshman year at St. Edwards.
For the athletic training department, injuries like these are all too common. Jones has noticed that student-athletes always want to push the limits of their injuries.
"The biggest mistake we see injured athletes make is trying to get back on the field too fast," Jones said. "These kids are so dedicated to their sport that sometimes they compromise their safety to get back to their sport. It is especially hard for athletes to be apart from the team as the team continues to work out and practice; they just want to be healed"
Ellis could not be more ready to get back to the team, especially to build up the strength and endurance he wants to have on his college team.
"College soccer plays in the fall. If I got my surgery today and took six months to recovery, I would miss the majority of the season, so redshirting looked like my only option," Ellis said.
For now, Ellis must simply wait. As he struggles to find the balance between what he should and should not be doing in terms of working out, he keeps his eyes on the future in front of him and eagerly waits for the day that he will be out on the field again, this time at St. Edwards.
Johnson, a midfielder and forward, felt similarly as she suffered from a torn anterior cruciate ligament in her left knee in the Cowgirl's first playoff game against Keller Central on Feb. 21.
"Early in the game, about three minutes in actually, I jumped and planted my foot wrong," Johnson said. "I tore my other ACL freshman year, so I knew what it felt like. My body reacted the same way. My first thought was 'I tore my ACL again'."
Despite her teammates' attempt to convince her otherwise, Johnson knew the pain all too well, and immediately knew there was a long road ahead.
"Tearing an ACL, believe it or not, is a really common sports injury at this school," Jones said. "We hate to see it though because the recovery generally takes four to six months. That's a really long time when you only have four years of high school."
Though most physicians recommend six months of recovery, Johnson is doing everything in her power to speed up the recovery. The last time she tore her ACL she was back on the field after five months. If she recovers in the same amount of time as a senior, she can join her team on the field in September.
"I've had a hard time deciding whether or not to redshirt as a freshman. My coach is leaving it up to me," Johnson said. "It would be really hard to pick up the game at the level I want to play coming off this injury. I can only watch things play out from here."
Coming to a commitment at Alabama-Birmingham did not come as easily to Johnson as committing at St. Edwards came to Ellis. In fact, as a junior Johnson was not even sure she wanted to play collegiate.
"It wasn't until my friend Kennedy convinced me to check out UAB that I decided I wanted to play," Johnson said. "She gave my name to the coach and I fell in love with the school and the soccer program when I visited."
At this point, there is not much Johnson or Ellis can do but wait for time to pass. Until then, they have the support of their trainers, coaches and teammates to help them through their injury and the long road to recovery.