CLAX seniors 'stick' to sport in college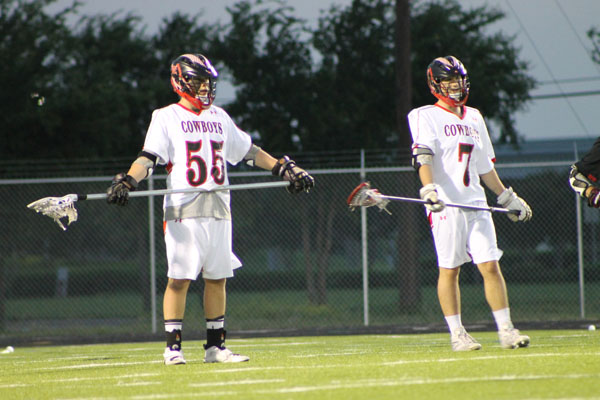 By John Loop
Staff Writer
Lacrosse. A high scoring game of catch and keep away. Mix it in with a couple of head-rocking hits, and you've got yourself a pretty fun and physical sport.
For Coppell seniors Zane Zoda, Austin Watters and Logan McCullough, lacrosse has been their life since they were very young.
"I have been playing lacrosse since I was in fifth grade," McCullough said. "So that makes seven years."
Fortunately, their careers will continue for four more years, as all three boys have chosen to play NCAA lacrosse.
Captain and midfielder Watters has decided to attend Queen's College in Charlotte, North Carolina. Defenseman McCullough committed to Whittier College in Los Angeles. Defenseman Zoda, one of the top recruits in Texas, will take his talents to Stevenson University in Baltimore.
"I did visit the campus [Stevenson] and it was incredible," Zoda said. "The facilities there were top of the line and the campus was very comfortable."
All three senior stars did not really think about pursing this punishing sport after high school, but made the decision as late as this year.
McCullough was strong set on Notre Dame de Namur in Belmont, Calif., until recently when he got a phone call form Whittier while having a dinner out. He got off the phone with $20,000 dollars in his pocket from the LA campus. He decided to change his commitment right, then and there.
The decision to play college sports does not come easy for most high school athlete, but, given the time,
"I woke up one morning and decided I wanted to play lacrosse in college, got on the phone with my coach, and NDN was about as accepting and helping as they could be." McCullough said.
McCullough also received a $10,000 scholarship to the campus at Namur, which also played a part in his decision., but he ultimately chose Whittier.
"In the end, it came down to the money." McCullough said.
Being recruited did not come naturally. In order to get noticed, athletes would have to be in constant contact with coaches all over the country.
"The recruiting process was pretty crazy," Watters said. "I played for multiple travel teams for a couple of summers and was always in contact with a bunch of coaches, trying to get their attention. I'm glad I caught Queens'."
Over the past few years, the amount of lacrosse programs in the South has grown unexpectedly. This game is usually tied to the North and the Northeast regions of the United States. Storied programs such as Syracuse, Massachusetts, Penn State and Johns Hopkins are the centerpieces of collegiate lacrosse. But expansion of this hard-hitting sport has finally reached Texas, with powerhouse programs like Highland Park, Dallas Jesuit, and Coppell at the top of the list.
"Lacrosse is becoming bigger down here because we have the caliber of athlete to make really good lacrosse players," Watters said. "Football squads are [becoming] over crowded so lacrosse is a great alternative."
This has been evident in the recruiting class of last year, most of which were two-sport athletes, playing both football and lacrosse. Defenseman and linebacker Brandon Mullins spawned several full-ride football scholarships to big name schools to play lacrosse at Syracuse. Midfielder and receiver Nate Hruby plays now at the Air Force Academy. Midfielder and receiver Tyler Landis suits up for Brown University.
When these superstar athletes graduate in May, they will hopefully carry the Coppell pedigree with them into their next level of education.
Hang on for a minute...we're trying to find some more stories you might like.