Pickrell sets into UCIrvine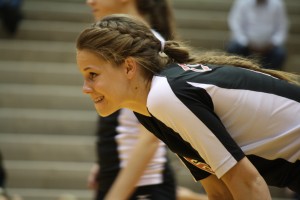 By John Loop
Staff Writer
With the state championship behind her, junior outside hitter Cassidy Pickrell turned her attention to a more pressing matter, her college commitment.
"I had been thinking about it since [University of California at Irvine] offered me a scholarship this past summer," Pickrell said.
In the wake of her decision, Pickrell and the Cowgirls recently beat McKinney Boyd to claim their first state title in 22 years at CHS.
Coach Julie Green thinks Pickrell deserves to play college level volleyball because of her skillset on the court and competitive mind.
"Cassidy is a gutsy player," Green said. "She is the ultimate competitor, and very passionate about volleyball as a whole."
Pickrell traveled to UC Irvine for a three-day event last summer, which included a two-day volleyball camp, as well as a tour around Irvine's campus. At the end of her time in sunny California, she was offered a full scholarship to the university.
"The coaching staff told me that I had all the time I needed to think about it," Pickrell said.
But the Anteaters were not the only program recruiting Pickrell.
"I was also considering Air Force, West Virginia and North Carolina just because of the coaching staffs," Pickrell added.
Once she got to camp, her future Irvine teammates really bonded with her, and vice versa.
"They are a really good group of girls. We have the same personality, so I think we'll really click on the court," Pickrell said.
This does not mean Pickrell has given up on her senior season next year.
Most of Pickrell's high school teammates, including Pickrell's sister freshman Kylie Pickrell, are excited for her as well.
"Cassidy was a key part of this team by always playing her heart out on the court and always giving it everything she has all of the time," Kylie said
The Irvine coaching staff repeatedly asked her to play with the well-seasoned squad of returnees.
Aside from the volleyball perspective, Pickrell's decision hits a lot closer to home.
"I have a lot of family in California," Pickrell said. "The closest relatives to me are just under two hours away, so I will be visiting them often."
She also likes the West Coast atmosphere.
"It's California. What's not to like?" Pickrell said.
UC Irvine's distinguished School of Humanities also fits Pickrell's major, broadcast journalism and communications.
"I feel like UCI gives me a good opportunity to pursue my interests in broadcast journalism," Pickrell said.
UC Irvine recently created a new news broadcast program similar to KCBY, which Pickrell is enrolled in now.
On the day of Pickrell's commitment over Thanksgiving break, she said Anteaters head coach Paula Weishoff and the entire coaching staff were not expecting her to commit on her short visit.
"I just said 'You probably know why we are all here, I will be playing for you; I am giving you my verbal commitment," Pickrell said. "They all cheered and were very excited for me."
Green is as happy for Pickrell as they were.
"Cassidy is definitely a Division I athlete," Green said. "Her career as a college volleyball player is headed in a clear direction."