Academy website up and running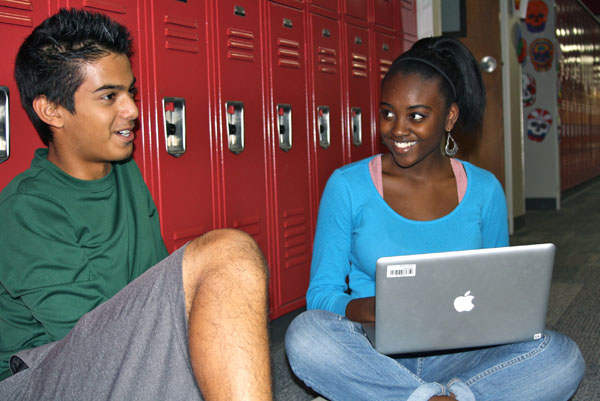 By Annie Wen
Staff Writer
With a deadline approaching, sophomore Sydney Williams knows she must get her interviews done and her story posted online. Williams is not a member of The Sidekick or KCBY but a student in EMAC's Advanced Reporting elective course.
The Advanced Reporting class provides EMAC sophomores with hands-on experience as they serve as true reporters of Academy news.
"There's always something to write about," Williams said. "After I have an idea of what to write I do my interviews and I make a draft. Then the other writers and [teacher Chase Wofford] edit the story and once the story has been edited it gets posted on the website."
Students in the EMAC academy are able to choose electives every semester. This year reporting teacher Chase Wofford took his class in a different direction and created the website where the writers can publish their work.
"The website was my idea," Wofford said. "It isn't as much about the site as it is about developing the writers. I want them to be actual reporters, working on the job.
 The content on the website is news that happens in the Academy, but the writers are able to be creative with their stories.
While PSA, EMAC and STEM have all combined into one academy on the website, each academy still has its own individual events, such as PSA's Hometown Hero project and STEM's MATE team. Throughout the year each academy hosts events to promote the academy. The website is a good way of letting people know when these events are.
"We put on the website the big projects for each [individual] academy," sophomore Shannon Wilkinson said. "It's a good way of reaching out to people and letting them know what events are coming up."
This website is similar to the Coppell Student Media website. Both are student-managed publications and report on Coppell related news. However, the Academy website is specialized towards news happening in the Academy and does not include the radio network that the CSM website does. The CSM website also has different categories for different types of stories, such as sports, features, reviews, opinions as well as blogs that are updated every day. The Academy website has one tab where all news is published and a separate tab for pictures.
The website went through various stages of development before it was published.
"I went on [English teacher Clara] Caussey's website, and she had a list of free website creators," sophomore Sydney Williams said. "I saw Weebly as one of the options. It was something new I had never tried before, so I decided to work with it."
The writers of the website have put in a lot of time and effort to fill the site up with stories.
"It takes about three days to write a story," Williams said. "I first brainstorm and I write everything down on a piece of paper. If I don't have any ideas, I'll just ask around."
The writers for the site are also photographers, and are responsible for the slideshows on the website as well.
"Each story has to have a picture, so we're responsible for taking the picture," sophomore Regan Sullivan said. "We also just take pictures throughout the day and post them on the website."
The new website not only serves as a good place to learn about the Academy and what its students are doing, but it is also a good outlet for the writers.
"I really like writing for the website," Williams said. "It's requires creativity to come up with good stories and thinking in a bigger way."
Through working on the website together, the writers have also gotten to know each other better.
"It's fun to work on," Wilkinson said. "You meet a lot of new people through writing the stories."
The EMAC website can be found at www.coppellacademynews.weebly.com.

Hang on for a minute...we're trying to find some more stories you might like.