Athletic trainers ensure healthy athletes for CHS
By Caroline Carter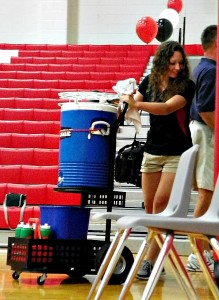 Staff Writer
While the athletes at Coppell High School train during the day and compete at night, one group of students is always with them. The CHS athletic trainers put countless hours of work in to ensure that the student athletes stay hydrated, safe and healthy.
Under the direction of Yvette Carson and Barry Jones, a small group of students work from sun up to sun down to provide help and support to the freshman, junior varsity and varsity student athletes.
"[The trainers] do first aid and help us handle injuries," Jones said. "They are basically our right hand and are capable of doing just about anything that we need them to do."
Jones, a graduate of Texas Christian University and the University of Arkansas, was also an athletic trainer when he attended Longview High School and does not regret his decision to become one.
"I wasn't good enough in sports in high school, and the thought of still being able to be around sports and being in medicine was very appealing to me," Jones said. "I haven't looked back since."
With their prior knowledge of what it is like to be a sports trainer, Jones and Carson help many of the student trainers learn the ropes of athletic training and how to react to a situation.
"They have been taught all these skills, so if someone is hurting they have been taught the proper protocol we use to help work on that problem to get that player back in the game as soon as possible," Carson said. "They are responsible for hydration but there is a lot more to it than that."
Sophomore Connor Lasater is in her second year of being a student trainer. A fan of sports with a heart for helping others, Lasater enjoys her time as a student trainer and hopes to possibly pursue a career in sports medicine.
"I decided to become a trainer because I love helping others and love watching sports, so being a trainer I get to do both," Lasater said.  "Something that a lot of people don't know about trainers is that we show up before the players and are always the last to leave."
Before the players arrive to the game, the athletic trainers are responsible for preparing all first aid kits, setting up water stations and assembling some of the equipment used by the players. After the game is over, the trainers must pack up their equipment and make sure all the players are safe.
Because of the many tasks they are required to do, the trainers often spend more time at the game than any player, coach or fan.
"Any athletic game we are there doing our job, freshman, JV and varsity," Carson said. "A 12 hour day is a short day for us."
Though it can be tiring, the trainers sincerely love what they do. The group of about ten students comes in day after day to serve the athletes of CHS. New Tech sophomore Erin Gillen takes pride in her role as an athletic trainer as it gives her a chance to see what a possible career in the field might look like.
"I really enjoy what I do with the athletic trainers," Gillen said. "I like being around everyone and getting to know the players and coaches.  This will really help me out in college because this is something that I want to peruse. Everything that I do now (as a student trainer) is stuff that I could do in college."
The trainers of CHS work to make sure everyone remains healthy and safe. Though their work may go unnoticed to some, the athletes appreciate all that they do.