Ogbogu quickly gaining recognition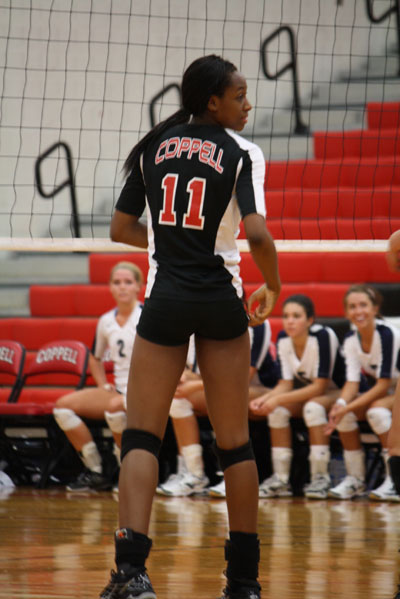 By Seth Slover
Staff Writer
Junior Chiaka Ogbogu embodies the definition of the word "determination."A raw athlete with God-given ability, Ogbogu has refined her skills and developed her talent.
Having played on the seventh grade C team and eighth grade B team at Middle School North, Ogbogu has escalated up the ladder of volleyball success, now a second-year varsity star.
The strange thing is, so few people in the area have any idea of just how good Ogbogu is at volleyball.  If the secret was not already out, it is now.
Although there has been little recognition of Ogbogu's accomplishments, the attention from the volleyball world has been abundant. She has accumulated an extensive list of accolades and accomplishments.
During the summer, Ogbogu was voted a member of the AAU All-American team.  In addition, Ogbogu was voted the Most Valuable Player of the Allen tournament, and in the Duncanville tournament Ogbogu was first-team all tournament.  Most recently, Ogbogu won the Lone Star Player of the Week award for the entire state of Texas.
Ogbogu cites dedication, individual work and a passion for the game as reasons for her drastic improvement and immense recent success.
"Through playing volleyball, I've learned that you've got to work hard in order to get where you want to go," Ogbogu said.
She exhibits all the necessary traits of an ideal high school volleyball player.  Her work ethic, attitude and commitment are well-known by teammates and coaches.
"I couldn't imagine not playing.  I have a passion for volleyball, and when you have a passion for something, you desire to succeed at it," Ogbogu said.  "Honestly though, none of this about me matters until we get our state championship ring."
Her teammates have the same mindset and also recognize her significance on and off the court.
"She's really reliable and has such a consistently positive attitude," junior teammate Cassidy Pickrell said.
"Chiaka is very humble – it is rare that she will get excited about her own play, but she celebrates loudly for her teammates," coach Julie Green said.
Her emphasis on character traits and respect from those around her shows she has more going for her than simply sheer athleticism on the court.
Of course, any athlete performing at this level requires an enormous amount of athletic prowess and innate giftedness.  Standing tall at 6-1, Ogbogu possesses physical qualities envied by opponents and coveted by coaches.
"Chiaka is the most athletic person I've ever met," Pickrell said. "She jumps out of the gym.  In all honesty, Chiaka could finish her career at Coppell as the most decorated volleyball player in a very long time from our school."
Her athleticism and talent has attracted the attention of numerous Division I universities including the University of Texas, Florida State, Penn State and TCU.  These schools contacted her and had her visit their campuses to get a feel for her college intentions.  Three weeks after visiting, Ogbogu called the head coach of the University of California Berkley saying that she had elected to play volleyball at the University of Cal-Berkley.
"Chi is definitely a game changer – a difference maker," Green said."She has the ability to make these incredibly athletic plays in a critical moment, causing the momentum to shift in our favor and giving our team a much-needed push. She is one of the players I want to have the ball at the end of the game – she plays well under pressure. She refuses to quit."
A true competitor like her does indeed "refuse to quit".  Therefore, with nearly two more years here at Coppell, everyone knows that the best of Chiaka Ogbogu is still to come.