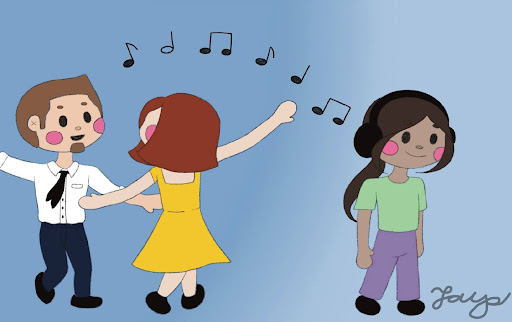 Her fingers danced along the piano keys. I traced small circles on the purple sofa, my designated spot, watching her fill the silence with the melody.
"Mia and Sebastian's Theme" by ​​Justin Hurwitz, a tune of dreams, nostalgia and romance painted vibrant colors within and around us.
"Let's both learn this song on the piano before we graduate high school!" my friend said as she held the final E note. 
I laughed, "Of course, we have so much time."
It was the fall of freshman year, the COVID-19 lockdown had redefined our lives for the past couple months. Regardless of the pandemic upon us, we had dreams of fulfilling the 'high school experience' attempting to romanticize every uniform day. 
I was in love with the piano, the playing of the ivory keys brimming with pure emotion. 
However, "Mia and Sebastian's Theme" felt different. It took the fleeting thoughts of loneliness, regret and unfulfillment and translated them into a will, a motive to open my eyes and smile at the experiences that previously made my heart ache. 
It's been around 1,120 days since that fall day, but my heart still tugs the same at the sound of that first F note.
With every fleeting moment of unfulfIllment I felt in these past four years, it has been muscle memory to open Youtube to the hour long repeat of "Mia and Sebastian's Theme." It brings depth to my breath, creates softness in my heart and makes me stop and look around, taking in the previously irrelevant details around me. It reminds me what could have been and what can be, romanticizing the mundane and allowing internal peace. 
Now, listening to it, I no longer see future dreams or hopes. I see a playback of all the other times I played this melody on repeat. I find comfort in my past tangled emotions, a reminder of what this song had led me through. 
And I give thanks to it, the drive behind the daily stills of life, the tinted lens in which I saw an admirable present. I thank it for carrying my memories, blurring the edges of the lostness and filling the gap with growth and connectivity. 
I never ended up learning how to play it on the piano, but I carry no regrets of the echo of friendship and unfulfilled dreams it stands for. Every day, every fall and every passing moment when I feel a pinch in my heart, I come back to it. 
"Mia and Sebastian's Theme," a melody that stung a metaphorical theme of my own.