In rural Tyler in East Texas, a young boy found pleasure in the simplicities of life. The scant population of the town meant that entertainment was found through hobbies like reading, the catalyst to the boy's future passions. 
This was the childhood of Coppell High School English II teacher David Poskey, one filled with a wealth of knowledge in embracing the modesty of the everyday. 
"I grew up in the country with no one to play with but my brother and sister," Poskey said. "My dad would take me to the used bookstore every couple of weeks. We had every National Geographic magazine from 1888-1980." 
Even in his early years, Poskey's experience as a teacher to his younger brother was an indication of his aptitude for teaching. 
"My mother was a custodian at the high school, so she would be working after school," Poskey said. "I'm six years older than my younger brother, so I would always teach him algebra that I barely understood."
Among his childhood memories are cars. It was when Poskey drove with his father, David Poskey, that he felt bliss. Poskey's drive to continue to work with cars convinced him to attend the Universal Technical Institute in Irving. After spending four years at the vocational school, Poskey moved back to Tyler and worked at Tyler Ford, the local Ford Dealership. 
"I decided that I liked working on my own car, but not the cars of other people," Poskey said. "The money was good, but I didn't care for it."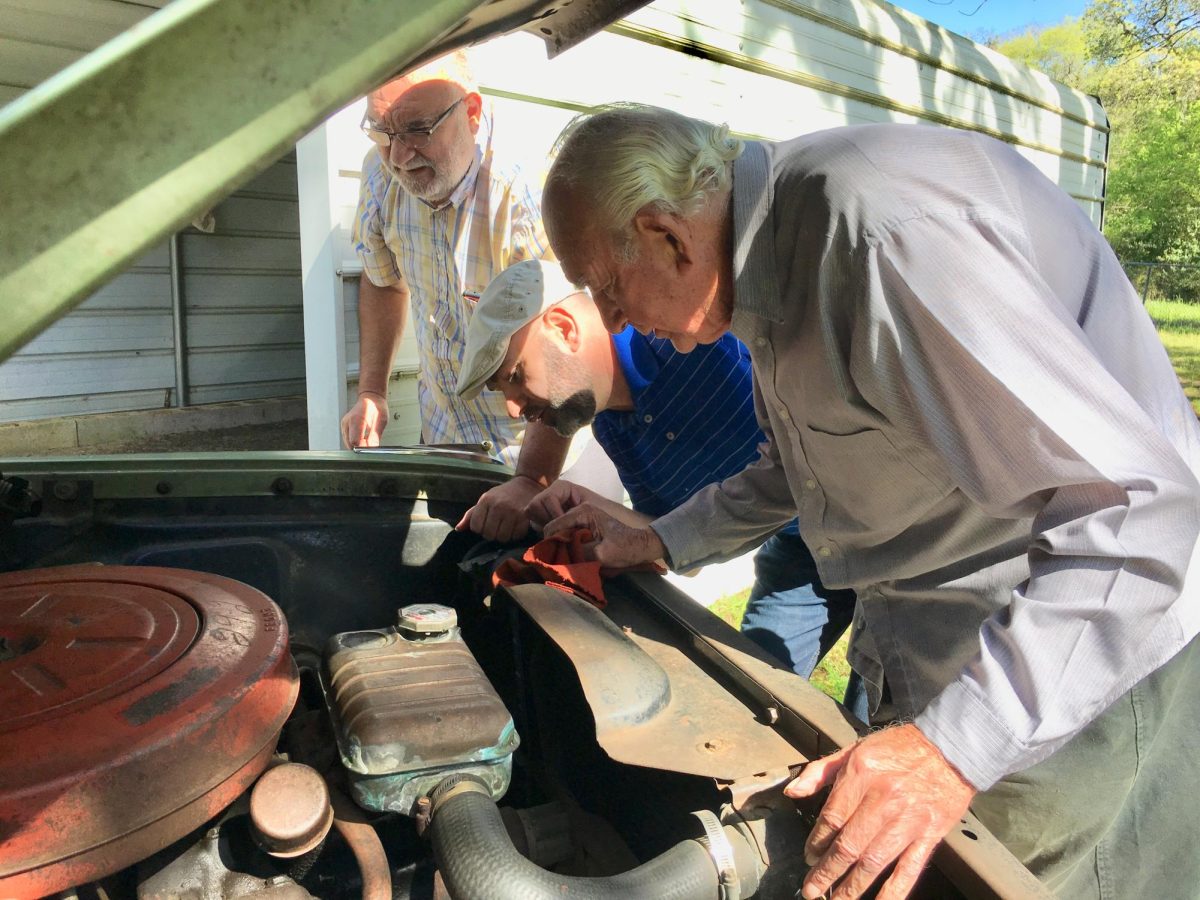 Poskey transitioned to another job that still utilized his technical knowledge of transportation vehicles. After scoring well on the Armed Services Vocational Aptitude Battery (ASVAB), Poskey joined the Air Force as a reservist to work on technical support for planes. When Poskey became crew chief of an A-10C Thunderbolt, he had to perform extensive checks on his aircraft before every departure and after every landing, including checking tires, refueling fuel tanks and checking for leaks. The job came with a significant amount of responsibility.
"These people are depending on me for their lives," Poskey said. "I may be the only crew chief working on the aircraft. When I was based in Shreveport, La. a fuel leak killed a crew chief because he did not know it was leaking."
After six years of being a crew chief, Poskey left the Air Force. He entered Tyler Junior College, open to whatever passion would find him.
Poskey took a theater appreciation class for his fine arts credit. As he watched his first play, "Amadeus" by Peter Shaffer, he became transfixed by the magic of theater and its ability to take him to new worlds.
"Amadeus' was about Mozart, and I happened to listen to classical music," Poskey said. "When I was five in the bookstore, my dad and I found a collection of old Beethoven records. The costumes and set design made me feel like I was a part of that time period."
"Amadeus" brought Poskey back to those memories of his father, and he decided to be an extra on the show. Although acting was not his calling, Poskey's love for the technical made him find his place in technical theater by building sets. After attending the University of Texas at Tyler, Poskey continued to specialize in his technical theater knowledge. 
"The University of Texas at Tyler has a very big theater program," Poskey said. "A lot of Broadway shows came through there. Through college, I would work on some of these big shows. I almost finished my degree, and then I met my wife."
For many, love is found in partners with similar personalities. For Poskey, who has a quiet persona and solemn stature, his wife, Leia Poskey, is the absolute opposite. 
"My wife has been all around the school," Poskey said, chuckling. "She is a super teacher. She is very outgoing, and I am very much an introvert. My wife was on her way to London to study art. I ended up in London before I graduated. I decided at that point that I wanted to teach."
After moving back from London, Poskey received his teaching certification and began to teach technical theater at John Tyler High School in Tyler at the tail end of Hurricane Katrina. The hurricane brought an influx of students from Louisiana. 
"It was a lot," Poskey said. "I had to teach classes and be there for all the shows. It was like being a coach. I would stay from 7 a.m. to 9 p.m. I did love it, but it was too much and burned me out. But, they needed an English teacher."
Poskey took the job because of the intersectionality between theater and English. 
"A lot of theater is deep analysis of the script," Poskey said. "You have to know the character motivations, which uses the same analysis in English II."
In his 17 year career of teaching, Poskey worked at four schools, before finally finding his calling at Coppell after his wife's conversation with the principal of CHS.
"My wife started at Coppell in 2015," Poskey said. "She ran into Principal Laura Springer one day, and they were scrambling to find a teacher. But, I already got a job offer from Richardson ISD. Principal Springer said not to sign the contract before I met her."
After a conversation with Springer, Poskey took the job. As a car mechanic, veteran, technical theater designer and teacher, Poskey has lived many lives. But now that he has found his place, he does not plan on leaving.
"I have no desire to go anywhere else," Poskey said. "I could retire in three years, but I don't see that happening. Some people don't realize how special Coppell is. I don't have to break fights. I don't worry about my phone being stolen if I leave it on my desk. I always knew I wanted to do something to make the world a better place, and this job helps me shape young minds."
As a teacher, Poskey inserts his past lives into all aspects of his pedagogical structure. Poskey's philosophy in teaching, one crafted by his experience in the Air Force, is letting students learn through independent study. Upon a glance at Poskey's classroom, a bulky Merriam-Webster's dictionary can be seen at every desk. The purpose of the dictionary is to make students investigate questions by themselves.
"I don't teach people what to think; I teach them to think." Pokey said. "In today's world of misinformation, education is the way to reduce that. You learn to sort and analyze information in my classroom. I don't give students answers. I make them work for it."
That teaching philosophy is recognized by Poskey's students.
"'Let the boys play' is his phrase," senior Addison Terry said. "He really cares more about effort, sometimes more than the material. He pushed us, but he pushed us to the place where we had to push ourselves, and I think that's more important than a teacher nagging you."
Voices have power. The trademark Southern drawl, an indication of his upbringing, in Poskey's voice is precise. Each word is chosen carefully and his pacing is slow. Every question asked is not just an answer to Poskey; it's a conversation.
"His persona is very serious," Terry said. "He never laughed. The first day I met him, I didn't know how this class would be. I was a little worried. Throughout the year, we saw a different side of him as a person."
Poskey is a person of few words, but it is that trademark characteristic that teachers in his fellow English department have grown to revere.
"He's very kind and observant," English teacher Hannah Corley said. "He's not the loudest in the room. He thinks before he speaks, which allows people to be heard. Kids feel safe in their English classroom and they feel like they can ask questions. They can be silly and they can feel like they can grow and talk with their friends."
Although Poskey has settled into a life he does not plan on leaving, he is never stagnant in his own development, whether it be in watching YouTube videos unrelated to English or in continuing to inspire students through his plethora of experiences.
"You never stop learning," Poskey said. "Once you stop learning, life is going to be boring. I will continue to teach as long as I can."
Follow Anushree De (@anushree_night) and @CHSCampusNews on Twitter.