Freshmen UNICEF Club to host fundraiser in support of mental health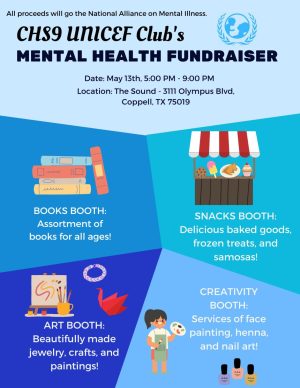 On Saturday, the CHS9 UNICEF Club is hosting a fundraiser from 5-9 p.m. at The Sound for the National Alliance on Mental Illness (NAMI).
Four booths will be run by volunteers from the UNICEF Club, CHS9 Student Council and CHS9 and CHS Leo Club. Booths will offer books, snacks, arts and crafts and face painting ranging from $2 to $5. 
The UNICEF Club board members hope to raise at least $250 through the event.
The club plans monthly projects surrounding the UNICEF Sustainable Development Goals, but this will be the club's biggest undertaking of the year. This month's project was inspired by the UNICEF UNITE 2023 May mental health project. 
From contacting NAMI to arranging the event at The Sound, all tasks of planning the event were managed by the UNICEF Club board members, including co-presidents Samanvi Sadak and Tejika Devabhaktuni. Planning started around mid-March.
"This will be our biggest project yet, and it was definitely a new process to us putting it together, so we hope that people will show up to support us and NAMI," Sadak said. 
Follow Yaamini (@yjois12) and @CHSCampusNews on Twitter.