11 GEM recipients recognized at Board meeting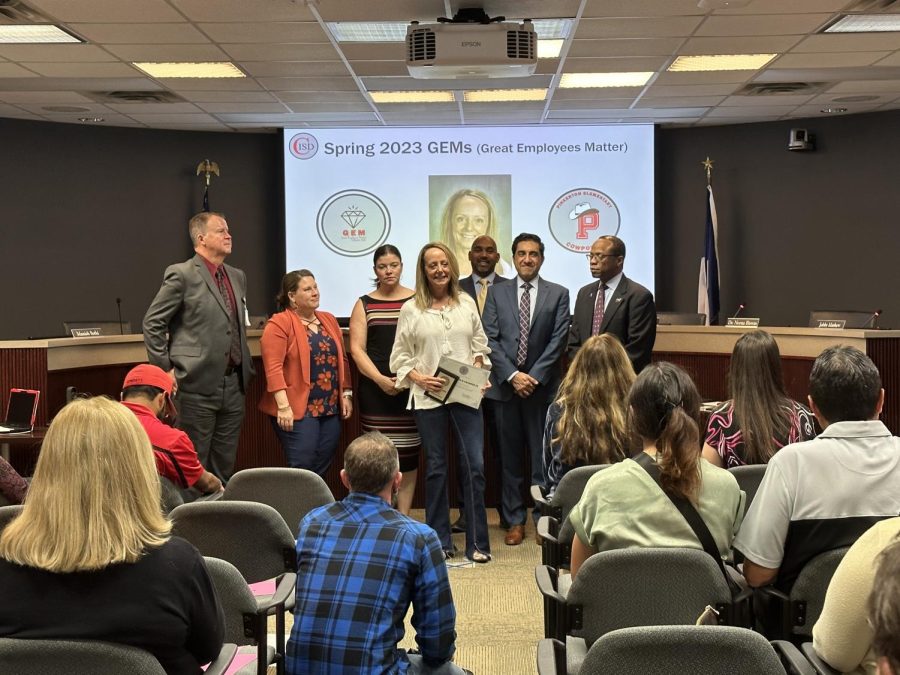 Ten Coppell ISD employees, including Pinkerton Elementary School PE teacher Colleen Michaelis, were awarded a Spring 2023 GEM (Great Employees Matter) Award on Monday night at the Board of Trustees meeting.Michaelis was credited for her efforts in speaking to district students regarding fentanyl prevention as she lost her son to an overdose.
"I want to personally thank Colleen for all of her hard work, as it's hard to open up and share such a sensitive topic," Coppell ISD Superintendent Dr. Brad Hunt said. 
New Tech and CHS9 students will receive the fentanyl prevention presentation. Presentation dates for Coppell middle schools are being determined. 
CISD is launching a new STEAM program across elementary schools, starting in the 2023-24 school year. The program includes coding, robotics, arts, engineering and design for K-5 students and will be integrated into the weekly specials rotation along with PE, music and art.
The partnership between CISD and Dallas College allows students to enroll, free of charge, in dual credit courses. 
"Students are getting college credit, giving them a leg up on their educational journey," Dallas College Chancellor Dr. Justin Lonon said.
In 2019, a $1.1 billion bond package was approved with more than 70 percent approval, allowing Dallas College to establish the construction sciences center in Coppell. Dallas College merged seven, separately accredited colleges into one accredited institution.
"It's been a very vital transition and one that will serve the community for decades to come," Dallas College trustee Philip Ritter said.
The district had 46 days in November where multiple campuses had attendance rates fall below 90 percent. 
"Unfortunately, only six of those days are eligible for a waiver," CISD chief financial officer Diana Sircar said. 
The Board approved a low attendance waiver to the Texas Education Agency (TEA), resulting from illness during the fall months of the 2022-23 school year.
The Board approved a contract to collaborate with companies recommended by the technology department. 
"The warranty and support for the current hardware and software has or is set to expire this summer," CISD executive director of technology Stephen McGilvray said.
The budget for datacenter infrastructure upgrades is set at $1,119,218.40.
Follow @sruthi_lingam and @CHSCampusNews on Twitter.