"We still got a shot"
Cowboys closer to playoffs after narrow victory against the Farmers
The once wild and rowdy crowd falls to a hush as Coppell junior infielder Matthew Orr clangs the bat against the ball. Senior outfielder Matthew Williams sprints towards home plate from third. 
The pitcher gets a hold of the ball after it hits the ground from Orr's hit.. Williams slides to home plate. The catcher catches the ball. The umpire throws his hands out to his side. 
Safe.
At the Coppell ISD Baseball/Softball complex on Friday night, Coppell narrowly defeated Lewisville, 1-0, in eight innings. 
"I'm proud of these boys and I'm proud of their fight," Coppell coach Armando Garza said. "They competed their butts off for eight innings against a really good team and I'm glad it came our way."
The game continued for seven innings with neither team being able to score.  In fact, for the first four innings, neither team reached base.
During the fourth inning, Lewisville junior shortstop Dylon Myrows' single gave the Farmers the first baserunner. Two hits from Lewisville senior shortstop Drew Schmidt allowed Myrows to nearly make a run to home plate before being tagged out by Coppell senior pitcher Bryan Raitz. 
The next few innings didn't allow for runners to get into scoring position. The scoreless game went into the eight inning. 
With Lewisville unable to score during the top of the eighth, Williams went with one out.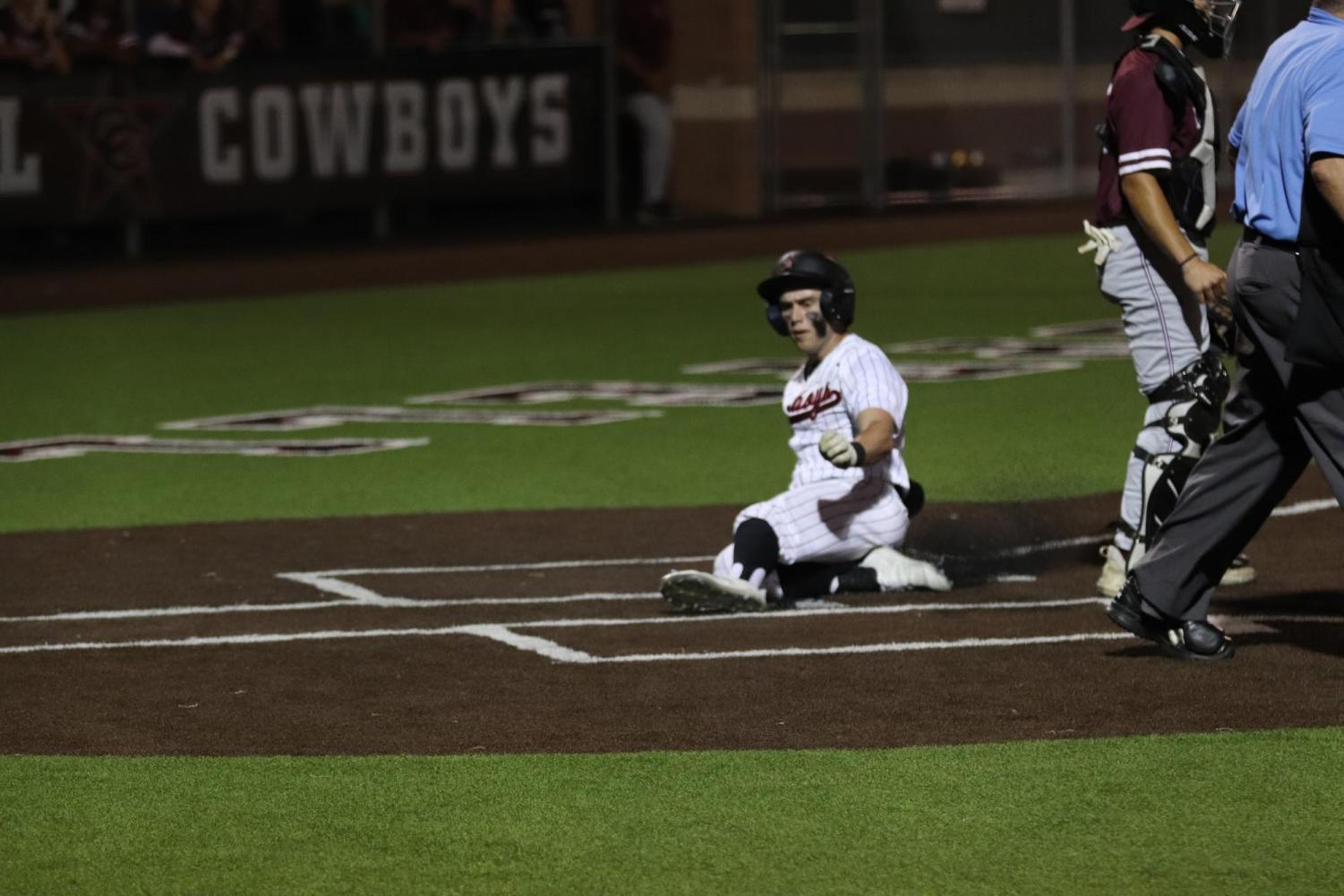 Williams reached first after being hit by a pitch and then stole second and third base. Williams was able to make it to third base after two consecutive missed catches from Lewisville's first and second basemen in attempts to get Williams out.
"It feels great," Williams said. "I didn't get it in any traditional way. They hit me, and I stole second and third, so it works for me." 
Coppell's win against Lewisville gets the Cowboys a step closer to playoffs. 
"We've got to win Tuesday, we've gotta win Friday." Garza said. "If Lewisville loses one of those games, against Plano, then we're in. If they win, then we're going to see them again for a play-in game"
Even though the team isn't guaranteed a spot in the playoffs, they remain enthusiastic.
"We still got a shot," Williams says. "We're going to keep trucking, keep going and see what we can do next week. And then, get through playoffs."
Follow Shreya (@shreya3220) and @SidekickSports on Twitter