VASE medalists advancing to state in first full in-person competition
After nearly a year of blending, painting and defining their artwork, 15 artists from Coppell High School were named state advancers for their pieces entered into the Texas Art Education Association's Visual Arts Scholastic Event.
Division 4 brought 400 pieces from across the region to compete at McKinney High School on Feb. 25 for regional medals and state advancing medals. The top 10% of pieces that won a regional medal were also selected to advance to state VASE, which will be held at San Marcos High School from April 28-29.
CHS seniors Jeffrey Wang and Shraavya Pydisetti both won medals for their entries to regional VASE.
Wang was awarded two medals for his pieces, "Bath Eyes" and "Fill in the Blank." Both pieces were built with acrylic and "Fill in the Blank" is a 3-D piece with layers of cardboard in the painting.
The first is an expression of Wang's love for art and the escape it gives him, the title a play on the word baptized. The second is a statement about how a student's experience with a class is dependent on the teacher on their course schedule.
Pydisetti was awarded two medals for her pieces, "Touched" and "Suffocated." Both pieces use oil paints and follow themes of restriction and self-expression, with finer details in the hands and eyes of each portrait.
"I chose oil as my medium because there's no medium that gives the effect oil can," Pydisetti said. "It's a little more time-consuming but it captures the right colors in the right way."
Leading up to this accomplishment, students were guided by CHS art teachers and worked closely with them to produce and submit new, original pieces. VASE-entering students worked from the beginning of the year to submit up to two pieces that met the requirements and detailed each step in the process of making the art.
One of these art teachers is CHS AP and Visual Arts teacher Michelle Hauske.
"They want students to actually think and reflect on the artwork they make, and build upon their technical skills," Hauske said. "It takes a lot to do what [these students] did in the course of a few months, including the interviews and judging their art went through. Art isn't thought of often as a performative style, but to students who are often vulnerable with the pieces they make, it can be hard to see it go through that much judging."
Despite more requirements in VASE entries, students were given full control of the mediums, styles and color palettes they chose.
Students went through a process of interviews and answering judges' questions at regionals which contributed to the decisions.
Entries at state have a chance to win a state medal or Gold seal, these entries were and will be judged by the VASE Jurors, a group of local art teachers.
This year was the first that students could compete with the whole VASE experience since with COVID-19 last year, in-person interviews were waved regionally and only kept for state. This hindered students from entering their submissions in the 2020, 2021 and 2022 competition seasons; however, many advancers from this year also advanced to state in previous years. 
"I figured, 'what was the point if I couldn't even experience the full process with my art?'" Pydisetti said. "I'm glad I got to experience it during my senior year, one more time before I leave."
At San Marcos, these artists' pieces will be judged more selectively to be awarded a state medal or Gold seal. A Gold seal is given to the top contenders who also received a state medal and will be kept for display.
For students vying for a coveted Gold seal, competition at San Marcos is the next step into the awards their pieces can receive.
"Of course, I want my work to receive as many medals as it can and do well, but it's also the process of going to state and seeing people like me, too," Pydisetti said. 
Follow Yaamini (@yjois12) and @CHSCampusNews on Twitter.
Leave a Comment
About the Contributor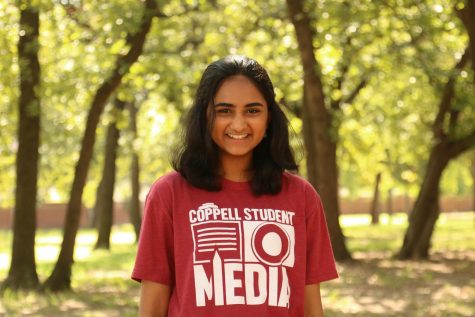 Yaamini Jois, CHS9 Editor
Yaamini is a senior, second-year writer, and CHS9 Editor of The Sidekick. Yaamini is a staunch supporter of the Oxford comma and considers her only major...