Shah mastering broad range of artistic techniques
At 3 a.m. on an arbitrary night during freshman year, Coppell High School senior art student Jiya Shah awoke to an intense "craving." Shah immediately gathered her art supplies and began sketching away her anxiety, after previously vowing to give up on her passion.
"I scribbled on a page and said 'I'm never leaving this again," Shah said. "If I stop [making art], I don't know if I will ever be happy again."
Shah's introduction to art was through art classes that her mother, Shweta Shah, encouraged her to attend when she was 4. Since, her personal style has been heavily influenced by her inspirations: teachers, family and peers.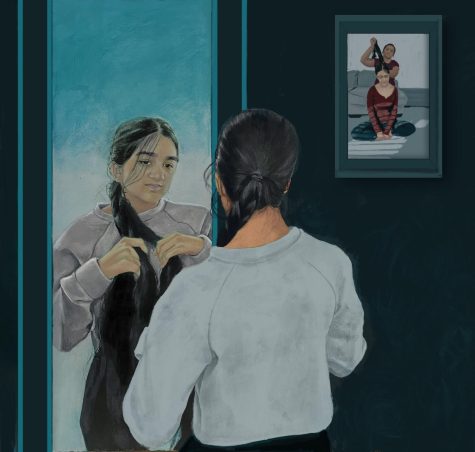 Drawing inspiration from Colombian-based artist Nicolás Uribe, Shah took on Uribe's tendency to center his works around a moment in his life. 
"He does a lot of works that are desaturated, or gray in color, because he doesn't want to attract attention to himself or his work, but I think that gray and moodiness has really attracted me to his art," Shah said.
The majority of Shah's artworks capture a significant memory or experience from her life. In "Future Reflections," Shah depicts a scene of her mother braiding her hair, as haircare is an integral part of the mother-daughter relationship from her family's heritage.
"I want to capture moments in my life and turn them into artwork," Shah said.
With countless hours spent in the art room after school, sometimes staying after school, Shah has become deeply connected with the art community at CHS.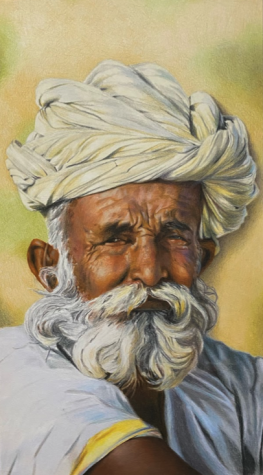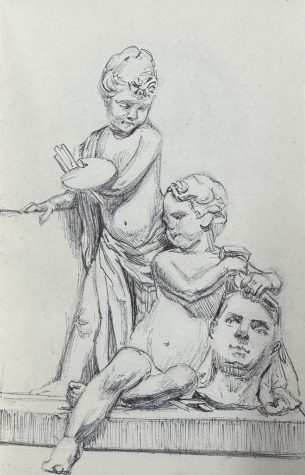 "A lot of my friends are artists, and they inspire me a lot because they help me understand more about myself," Shah said.
Her work mainly incorporates realism and ranges from small, detail-oriented work to almost life-sized pieces. Although she tends to lean towards realism, Shah wishes to experiment with different styles and venture into more non-representational pieces.
In her junior year AP Drawing class, Shah created a life-sized self portrait, venturing outside of her typical smaller-scale projects.
 "Jiya is tiny, but mighty," CHS art teacher Michelle Hauske said. "She created one of the largest pieces among my AP students last year, but then she also created some of the smallest pieces. She was on both ends of the spectrum, which I thought was really special."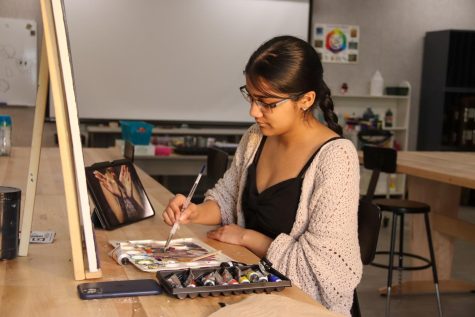 Shah carries a personal sketchbook with her almost everywhere she goes, often drawing during lunch, class and after school. Each page is filled with a burst of spontaneity with incredibly detailed, tiny drawings, representing the authenticity of her creativity.
Although Shah constantly strives to hone her skills, she occasionally faces creative blocks or dull periods lacking inspiration.
"I think there's a moment every single day where I'm like 'Why do I draw? Why do I paint?" Shah said. "The biggest inspiration to any artist are the moments they experience in their life, so little moments where I'm like 'I want to paint this moment right now,' get me out of creative blocks."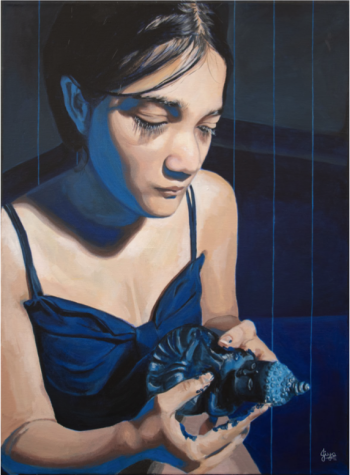 At the start of high school, Shah decided to avoid competing at art competitions altogether, worried they would restrict her creative flow and judge her ability as an artist. However, her mother encouraged her to experience criticism from judges, pushing her to consistently improve.
"This year, I've really gotten back into art competitions and truly enjoy them," Shah said.
Throughout her high school career, Shah has been awarded numerous accolades including four bronze and two silver medals at the Visual Arts Scholastic Event (VASE) and second place at the Texas State Fair in the youth division. Shah qualified for State VASE this year for her self-portrait "Flow State."
Beyond the classroom, Shah hopes to pursue a future in graphic design and transition into a career in user experience (UX) design. 
Follow Sruthi @sruthi_lingam and @CHSCampusNews on Twitter.