First tri-city neighborhood summit hosted at Coppell Life Safety Park
The first of its kind locally, the Coppell Life Safety Park hosted a regional neighborhood summit with neighboring cities, Lewisville and Flower Mound on Sunday. 
The event consisted of four segments to increase community relationships and bring awareness to issues that residents of all three cities experienced. The planning committee spent months planning the event, which included meeting often to contact speakers for each event and promote the summit. All cities are a part of the Neighborhood Engagement Revitalization Alliance, which meets quarterly.
Coppell community development project coordinator Katie Crawford and Lewisville city planner Bryan McBreen put the event together along with planners from Lewisville and Flower Mound.
The event was modeled off of previous events between the city of Plano.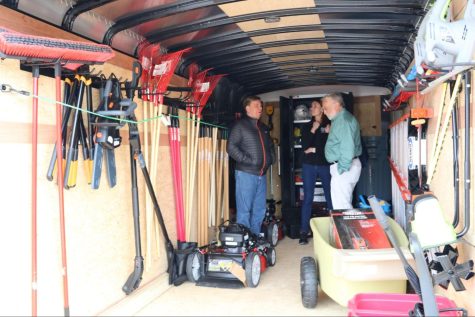 The first two segments started simultaneously. The first was an informational presentation on spotting different types of contractor fraud hosted by Texas Department of Insurance sergeant investigator Dana Richerson. Meanwhile, a discussion occurred between residents and HOA leaders of all cities. 
"The events were chosen to increase awareness of common problems across the cities," Coppell senior planner Mary Paron-Boswell said. "Hosting it with the other cities was done to create synergy."
The last segments were presented by Cagle-Pugh lawyer Kate Kilanowski, Crawford and Paron-Boswell. Kilanowski hosted a presentation on different boards involved in neighborhoods around the region. Crawford and Paron-Boswell led a presentation on block party planning trailers and new tool lending trailers. Visitors were able to explore two trailers at the summit as well.
Coppell and Lewisville have introduced new tool lending trailers that are free to rent for residents for all their needs. Coppell's Block'n Roll trailers can be rented for free by neighborhoods to host neighborhood block parties. 
Kilanowski presented different boards and ordinances and the authorities they have versus state ordinances. 
Different speakers also showed up on behalf of local departments. Coppell professional land use planner Renee Esses presented a booth about keeping plumbing clean as the Coppell water system empties out directly into creeks and rivers rather than a facility.
Authorities from Lewisville and Flower Mound also came to interact with one another, bringing with them free goodies.
The life safety park was chosen for its new meeting facilities. The next summit will be held at Lewisville on a date to be determined. 
Follow Yaamini (@yjois12) and @CHSCampusNews on Twitter.