Teacher of the Week: DeLoach tending to family after 22 joyful teaching years
Pinned to walls of Coppell High School AP Calculus AB and BC teacher Dana Deloach's room are an array of trinkets. From senior overalls boasting her last name to glossy printed photos detailing her children's time at CHS, DeLoach has Coppell in her blood. 
As time passes, she feels evermore youthful around her students—a second family—each year as joyful if not more than the last. But as her family expands with more grandchildren added to the bunch, Deloach has her sights set on spending time at her sister's lake house and helping her father through ill health.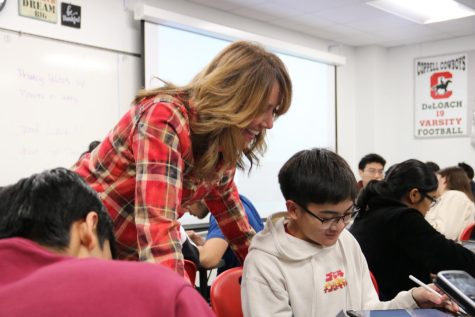 How long have you been at CHS and what did that journey sort of look like?
I started part-time and I had three kids at home, one in elementary and two in middle school. That was in 2001. They asked me to go full time and I did. The first year full time was when my oldest was a senior [at CHS] and so it was just really, really fun. I was going through all the traditions with my kids. It was really fun to be a part of all of that with them. When my daughter was here, the soccer team won state. My youngest [Davis DeLoach] was one of the directors of KCBY, so they were involved. Then they all graduated and I just kept moving up. At the time they were here, I was teaching Honors Algebra II and Honors Pre-Calculus. It's been fun the last couple of years with the challenge of academically pushing myself.
How does it feel knowing that it is your last year?
It has been hard. I moved my parents here and my dad was really sick. They've needed a little bit more help than I'm used to. Then I had grandchildren, and it's weird because I've enjoyed the past two years, probably as much as any of my other years, besides when my kids were here, but certainly more than the ones before. I love [CHS Principal Laura Springer] and I love the atmosphere. I'm really kind of not 100% ready to go, but I just want more time to be able to take my parents to doctor's appointments and spend time with my grandchildren. I've been trying to do part-time again and that hasn't really worked out. It's been a hard decision, but I think it's the right one for our family.
What is your biggest takeaway from teaching for so long?
What's interesting is that I think I've gone through stages of being stricter and easier, and I'm in a much more laid-back stage, which I love. I also teach the top kids, so it's easier to be lazy when you teach such great kids, but I will miss the interaction—the daily interaction with kids. It's just been who I've been, and I feel like I got to do what God created me to do, which was to be around teenagers.
What is your favorite tradition?
My parents lived on a lake [in Virginia], so we always went back for the Fourth of July. If you ask our family, then it is definitely the Fourth of July. it's just who we are. Now that we moved my parents here, we take our whole family and go to my sister's lake house. Water sports are everything to us.  
Follow Shrayes (@ShrayesGunna) and @CHSCampusNews on Twitter