Harwadekar advocating for children's rights as UNICEF National Youth Representative
Did you know that 53% of 10-year-olds in low and middle-income countries are unable to read or understand a short age-appropriate text? In light of greater public recognition of this startling disparity between developed and developing nations, Coppell High School senior Pranav Harwadekar is taking action.
On Sept. 14, Harwadekar was selected as a National Youth Representative for the United Nations International Children's Emergency Fund (UNICEF), an agency responsible for providing humanitarian and developmental aid to children worldwide. He is one of 30 youth reps across the nation and is one of the five members selected from the state of Texas. 
Even though he is now a part of UNICEF on a national level, Harwadekar started his journey here in Coppell. Back in 2020, during the COVID-19 pandemic, he co-founded the CHS UNICEF Club with senior Kanna Iyyappan.
"Here in Coppell, we had access to virtual education, where we could do online learning, but I knew many people around the world didn't have the same privilege, so that's when we started UNICEF," Harwadekar said. "[We] just want to basically advocate for children's rights around the world and protect that." 
Born and raised in Bangalore, India, Harwadekar moved to Irving in 2014. He was motivated by his upbringing to give back to his community.  
"I got to see a lot of kids, who might've not had the same privilege as us," Hardwekar said. "Some of them might be forced to work or marry at a young age; they don't have the same [freedom] to focus on their education and passion, which inspired me and made me want to contribute to society." 
He has been a part of the club's officer team for the past two years but decided to take his leadership a step further this year.
"On the school level, UNICEF has been making a great impact on the community with outreach and great events to fundraise for the organization," Harwadekar said. "On a national level, there's a lot more that UNICEF could do as their mission spreads."
The competitive application process began in July with applicants submitting a detailed resume and then getting called for an interview to shortlist the applicants. 
"One thing that stood out about Harwadekar is that he is the leader of his UNICEF club at Coppell, and he has also exemplified different ways he's involved in his community, especially serving locally and feeding lower-income communities," said UNICEF Community Engagement Associate Maryann Wanjau, Harwadekar's interviewer. "He was also very involved in advocacy work through UNICEF, having participated in Advocacy Week in 2021. Pranav was a very active volunteer even before the Youth Rep position was available, so he's a great fit for this role."
Wanjau had met Harwadekar long before interviewing him for the position during preparation for an August Recess meeting, where representatives from UNICEF meet with Congressional Representatives and ask for their support on behalf of UNICEF's mission. 
"I am always surprised and impressed when high school students make time to attend these meetings, especially when they're in the middle of the day, that stuck out with me even before the interview process," Wanjau said.
During their interview, Wanjau got to witness the compassion and dedication Harwadekar exhibited.  
"He genuinely cares to support children who are vulnerable and might not have as much privilege as he does or other children in his community," Wanjau said. "Just hearing what he's done in his past in the community really stuck out to me and showed that he's not just here for the title of the Youth Rep, but really has compassion for the work that UNICEF does." 
Wanjau had also taken on the role of a guide, helping Harwadekar navigate the challenges and novelty of the position. 
"She helped me learn what it takes to be a UNICEF youth rep and the skills that you need," Harwadekar said. "I've learned from her, my teachers and [CHS] that giving back to the community is the most important thing, and that helped me become a better UNICEF Youth Rep."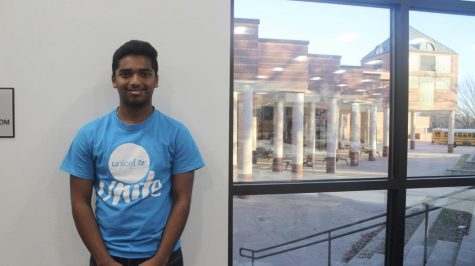 Describing his work ethic, CHS senior UNICEF Club president Sowbarnika Morsa expressed gratitude for his constant presence since the club's inception. 
"I really am grateful for the fact that he always showed up to online meetings," Morsa said. "He's very passionate about UNICEF. Even though he already had a hectic schedule, he always put time aside to work on UNICEF, and he helped with the foundation a lot. He was one of the biggest reasons the club was able to grow as much as it had today because now, we have over 100 members, and his contribution with the amount of the work he put in led to that."   
Harwadekar highlighted that his biggest role as a youth representative is being an advocate for UNICEF's mission and policies. 
"I meet with other Youth Reps around the nation, and we discuss advocacy and how we can empower the youth," Harwadekar said. "We also set goals for the year and discussed how we would like to bring that into our community and school. Our main goal is spreading awareness about UNICEF and their policies because the more people engage in UNICEF, the bigger impact we can make." 
Wanjau applauds Harwadekar's promptness when it comes to executing tasks for his role. 
"Last semester, our big task was to set goals for what we want to do in this role, and he was one of the first ones to set his goals," Wanjau said. "He's always in attendance in meetings, very prompt to answer questions and always wanting to jump into the work. He's very dedicated and always makes sure that his role is being fulfilled so that I never have to worry about him. That's an amazing quality to have, and I am really looking forward to going forth and implementing the goals that we've set this past semester." 
Harwadekar's role as a Youth Rep also includes providing resources for underprivileged communities to start their own UNICEF Club. 
"There's many communities, even in Texas, that might not have the same privileges as us, so we want to start a UNICEF Club over there, where we can help out people in those types of communities," Hardwekar said. "We're communicating with other organizations and schools who might not have that much privilege to start a UNICEF organization and provide them funding."
Currently, they are working on setting up an email to spread their mission to communities who aren't that familiar with UNICEF.  
"I'm in charge of advocating towards starting other UNICEF groups around the nation," Harwadekar said. "We have access to the UNICEF Youth Rep emails, where we get to speak with other Youth Reps and start up other UNICEF organizations by giving them information on how they can start up their own UNICEF club, fundraise and get a group of members started. I would like to start at least five more UNICEF clubs within the nation by reaching out to schools, school districts and communities that need UNICEF."  
Harwadekar is also interested in bringing initiatives from other places into the Dallas area.
"I would like to bring in the Houston area initiative called the Child Friendly Cities Initiative (CFCI), which is basically an initiative that advocates for children's rights and making sure that children have a safe place to live in the community," Harwadekar said. "I think if we bring something like that into our school and UNICEF clubs around us, that will not only help extend Houston's impact, but also bring something that's more valuable into our community." 
Harwadekar hopes to continue UNICEF throughout college and work towards building a better community for everyone.
"Being in UNICEF has opened up a lot for me in public speaking, and it's helped me become better in advocating for others' rights and also ensuring that I give back to the community," Harwadekar said. "[Being selected] has been a great opportunity for me, but I feel like my work doesn't stop there. It's important that even though I got selected, I continue doing that work."
Follow Divya Sivalenka (@DivyaSivalenka) and @CHSCampusNews on Twitter