Council recognizes retiring staff, renews EAM user licenses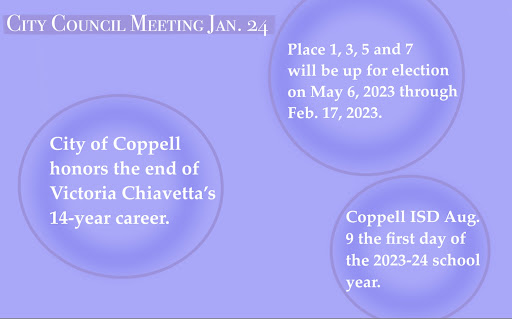 At  Tuesday's Coppell City Council meeting, the council declared Places 1, 3, 5  and 7 will be up for election in a general municipal election on May 6, 2023, through Feb. 17. Mayor Wes Mays signed and executed a joint election agreement with Dallas and Denton County. 
The renewal of the three-year annual subscription of the City of Coppell Enterprise Asset Management System (EAM) Contract, the agreement including EAM user licenses, support for non-EAM software integrations, and the EAM modules that are a component of the Coppell system was approved as well.
The council approved the cancellation of its meeting on March 14 due to schedule conflicts with Spring Break. 
The council recognized  Victoria Chiavetta following her 14-year career with the City of Coppell and her community contribution. Jan. 24 was officially named Vicki Chaivetta Day in the City of Coppell after she left her position at Coppell, honoring her service. 
"It's been my honor and privilege to serve in this community," Chiavetta said. "I don't live here but it's coming to my home. I feel like I can contribute so much to Coppell because of the connections I have and it been a joy to work with the citizens and staff"
Ed Guignon resigned after 12 years of service in the Parks and Recreation Board and was recognized by the council for his contribution to volunteering in Coppell. 
The council will hold a community meeting regarding the future of Old town on Jan. 31at the Coppell Senior and Community center at 5 p.m.
Follow Aliza  (@aliza_abidi]) and @CHSCampusNews on Twitter.