Aberdeen Is Dead bringing Deep Ellum to life
DALLAS – After an initial postponement due to ¾ of the band falling ill after traveling on its first out of state tour from Denver to Mesa, Ariz., Aberdeen Is Dead moved its hometown show from Dec. 29 to Jan. 13. 
What could go wrong in Deep Ellum on Friday the 13th? 
Turns out, nothing besides the tragedy of paid parking. 
After a plethora of missed exits, I arrived at  Deep Ellum Art Co. My go-to parking lot was seemingly abandoned, without any cars in the lot and or lights in the adjacent building. I reluctantly circled the venue in hopes of finding another mystical free parking spot to no avail, and eventually gave in to paid parking. Really, it was only $15––the same price I paid for the concert ticket. Worthy sacrifices. 
Entering the venue around 7:30 p.m., I paid my $5 liability tax for being under 21 and made my way to the merch stand. I always love smaller shows: the band runs its own merch table, and I don't have to show up an hour early to get a good spot. Just people there for good music and a good time.  
Gathering my assortment of stickers and a shirt, I strolled over to the stage, with plenty of room still at the front. As the bands wandered back and forth from the merch stand to the side room, I waited for the first of three openers. 
First up was Mudd Puppies, though it's a bit hard to consider the band an opener when really it was the Aberdeen Is Dead bassist Anthony Brown and singer Jake Linder performing as a duo. Mudd Puppies strays from the larger band's typical grungy sound, leaning into more of an alternative pop realm with a laptop to fill in for the lack of an accompanying band.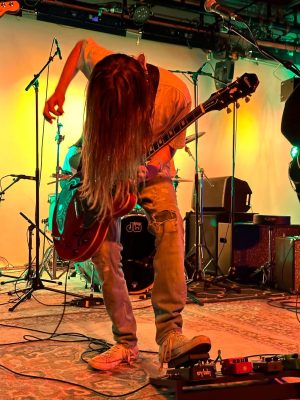 There is tangible potential in Mudd Puppies' sound, and I'm interested to see how the dynamic of balancing the two bands plays out in the future. Currently, it has a discography of two albums ranging around 30 minutes each. 
Next up was Denton-based punk band Five Point Palm Exploding Heart Technique, whose name, aside from being a bit of a mouthful, is a reference to Quentin Tarantino's blockbuster Kill Bill: Vol. 1. It's  fitting for the band's manic sound.
The most unforgettable thing about this band is the inclusion of a violin amongst other typically punk instruments. While it initially didn't stand out sonically, it really drove the emotion behind their performance in latter songs.. While asking the crowd for song requests, a band member jokingly suggested Limp Bizkit's "Break Stuff." Five Point Palm Exploding Heart Technique promptly belted into their rendition.
Their stage presence was strong, and nothing gets a crowd going like Limp Bizkit. 
"This is the biggest show we've ever played, and it was revolutionary. We got more connections than we thought and honestly, this is really changing for us," Five Point Palm Exploding Heart Technique lead singer Luke Flashpohler said.
The final opener was Max Diaz, who performed a more stripped-back acoustic set. The talent is definitely there; he's got quite the voice and I do wish I could've seen a more complete performance with an entire band. The energy behind his studio recordings would have been quite a lot of fun in a live setting.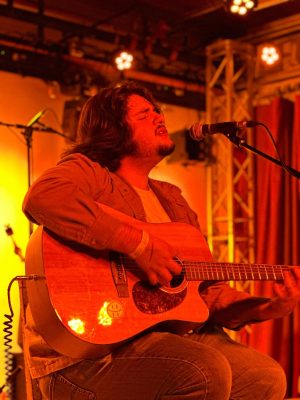 Finally, the time came for Aberdeen Is Dead. The band leans heavily into 90s grunge influences and got the crowd going immediately. Here's another reason Deep Ellum Art Co. is so great: guitarist Matt Linder was only about a foot away from me.
The stand out songs of the night for me would have to be "December Blood" from the band's latest record, as well as "We're all mad here," which is one of its best songs released so far. Catchy choruses alongside washed heavy riffs are what makes Aberdeen Is Dead so memorable.
As it stood atop the unstable tables which separated the crowd from the stage, the crowd jumped along to the blaring guitar and soaring vocals. Aberdeen Is Dead also performed a cover of Tame Impala's "Elephant", the riffs roaring louder and the solo ascending beyond the source material in a definite standout moment of the show. 
My personal favorite of the night would have to be "Uppers Downers All Arounders," a dreary yet fast paced pick with clever lyricism and poignant delivery reminiscent of the spoken word approach of British rock band Yard Act.  
"We went through a blizzard, we went through [the] hills of California, we went through the desert and circled all the way back to play this show and the crowd definitely came through," Linder said.
Aberdeen Is Dead, along with the other performances that night, truly highlighted the fact that even while rock isn't quite as mainstream as it once was, the smaller cultures of punk and alternative are still thriving right here in DFW. Intimate and energetic shows like these are out there, if you care to find them. 
Follow @JoshDC004 and @CHSCampusNews