The Twist: Orange cats will rule the world
Click-click click-click click-click.
The familiar noise of my orange tabby 1-year-old cat Podrick opening the door alerted my attention. He forces himself into my room and hops onto my cluttered table.
Sniffing around, he begins knocking objects off my desk. A glass of water crashes down, followed by my glasses. He sits down, stares at my irritated face for a second before sauntering away.
This is Podrick's daily routine.
Every morning, I am awoken by the crooning of my mother at 6:30 a.m. while she feeds him. She cradles him up the stairs and speaks to him in the sweetest voice while he remains indifferent at best. My mother doesn't bother to pop into my room in the morning. No, her priority is the pudgy, sassy cat that cannot reciprocate any semblance of her dedication.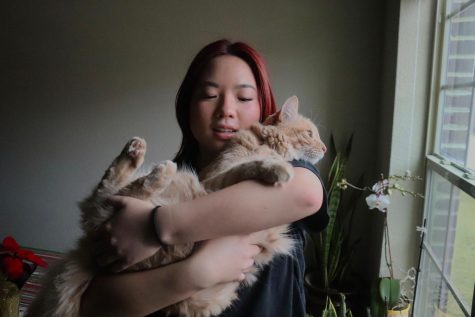 Every day when I come home after a long, hard day at school, Podrick is slumbering on his fluffy bed or laying in the window next to the sun. He knows no pain or struggle, only the slight hunger between his meals of grilled tilapia in gravy and kibble. I greet him before anyone else at home, but he gives me merely a slight look of acknowledgement before returning to his nap.
His toys clutter our hallways, a flopping fish in one corner, a colorful spring on the couch. He has a massive cat tree, but chooses not to sleep on it as he would prefer the comforts of a simple chair.
He fears being alone, so we must accompany him at all times. Recently, we traveled to New Orleans for three days. During this time, we had to hire a cat sitter to watch him, play with him and send photos.
When we returned, he only gave us one look before laying back down. Despite all our efforts to appease him, it is never enough. Alas, we love him so much as he is like our brother and my parent's first born son.
I see this pattern repeated over and over again with many different orange cat owners. Much like how evil world leaders have the world in their hands, orange cats have the household in their paws. Despite the overflowing love and adoration, the orange cat will always be flippant and only playfully beg for overflowing attention when convenient for them.
Orange cats have no souls, as they are gingers. This means that they can jump onto the table with you and try to paw at your food with no repercussions, mess up and knock down Christmas trees and practically have everyone standing with a singular meow.
Orange cats have the potential to take over the world, but seem to be preoccupied currently. We as a society need to remain vigilant.
Follow @angelinaliiu and @CHSCampusNews on Twitter