Harper keeps up defensively in offensive show against Plano West
Using her height to her advantage, Coppell senior Jules Lamendola catches the ball during inbounding in the third quarter and immediately puts it up for a shot. This fast paced offense is what gave the Cowgirls the victory Tuesday night. 
Coppell defeated Plano West, 62-40 at CHS Arena. 
The Cowgirls (27-2) improve to 9-1 in District 6-6A and ranked No. 4 in Class 6A by the Texas Association of Basketball Coaches.
Coppell played a dominant second quarter, only allowing Plano West to score four points by junior guard Savia Shabazz and junior forward Johanna Pearson. Back-to-back layups by senior Jules Lamendola followed by a reverse layup from junior Ella Spiller in the first minute of the second quarter forced a timeout called by the Wolves. 
Coppell ended the first half with a 10-point lead on Plano West, 29-19. 
"Defensively, we were way better [compared to the first quarter]," Coppell coach Ryan Murphy said. "Offensively, to start the game we did a lot of pressing and we have different levels of our press. Some are higher risk, higher reward, and we didn't get the reward that much. We kind of struggled in the back end of it. In the second quarter, we focused more on our half-court defense and that slowed them down." 
Spiller led overall scoring with 15 points, followed by Lamendola with 12 points. 
Coppell senior defensive leader Saiya Patel had a soccer game and did not play against Plano West. However, sophomore guard Londyn Harper was able to keep up with Plano West senior guard Monica Marsh, defensively. 
"We needed someone else to come in and be that defensive leader for us," Coppell coach Ryan Murphy said. "I thought Londyn Harper did a great job. She wore [Marsh] down. [Marsh] was really inefficient. [Spiller] did a great job, she was all over the glass. It was nice to see that without Saiya we were still able to provide that spark on that end." 
Murphy expects Patel will return in next Tuesday's game against Lewisville.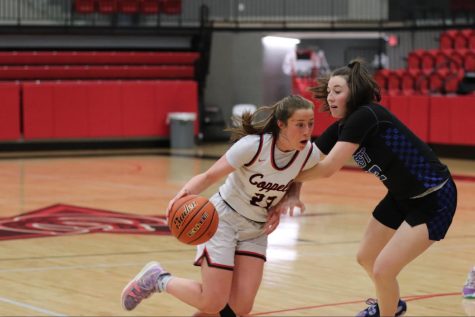 Plano West trapped on defense during the Cowgirls inbounding in the third quarter,  but this left them vulnerable under the basket. Coppell capitalized off of this and was able to score on the fast break as Spiller passed it up the court to Harper for a layup. 
"In the second quarter, our first five or six shots were all layups," Murphy said. "That softens up a team's defense a lot and you're getting all that pressure on the rim. That opens things up for Alyssa Potter to hit a couple three's. The biggest thing is that we made a concentrated effort to get the ball up on the rim and the girls did a really good job executing that." 
Coppell kept up the offensive pace in the third quarter with Potter hitting three 3-pointers, extending the lead, 49-28. 
Coppell plays at Marcus on Friday with tipoff at 6:15 p.m. 
Follow @angelinaliiu and @CHSCampusNews on Twitter.