HOSA sending record 45 winners to state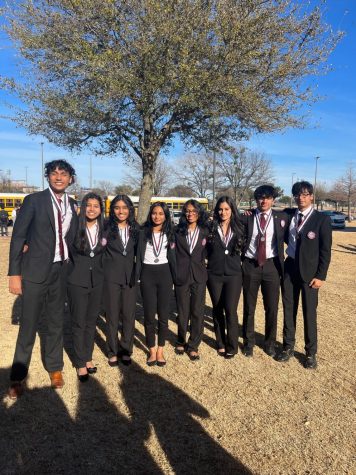 The Coppell High School Health Occupations Students of America (HOSA) chapter is sending a record number of 45 winners to state competition in Round Rock this year. 
On Jan. 13, CHS HOSA competed at the annual HOSA area competition at Allen High School. Awards were announced and received the following day.
CHS HOSA competitors punched their ticket to state in different events including Behavioral Health, Dental Terminology, Dental Science, Pharmacology, Health Care Issues Exam (HCIE), Clinical Laboratory Science, Parliamentary Procedure, CPR and First Aid, Extemporaneous Writing, Researched Persuasive Writing and Speaking, Research Paper, Creative Problem Solving (CPS) and Forensics. 
This year's HOSA competition looked a little different, with no freshmen from Coppell competing. Another difference was the implementation of online testing rounds, where winners were sent straight to state competition if they ranked high enough, while participants competing in different events had to compete in area first. 
There were various challenges for the CHS HOSA advisers, Bill Borowski and Rachel Chesney, as well. 
HOSA, with its many participants, is not easy to advise. Borowski and Chesney have separate chapters, so placing people in the right chapters and shuffling participants around is difficult. Additionally, only two people per chapter can compete in an event, so arrangements were made to satisfy this expectation. 
Nonetheless, some students stood out at this year's competition. 
From Borowski's chapter, sophomore Dhruv Nalla placed first in Dental Science.
Other standouts Borowski mentioned are CHS sophomores Sarayu Thallapareddy and Nandina Pandit, who didn't make state last year, but landed in second place for CPR and First Aid this year's area competition, advancing them to state. 
As a competitor who made state in the Parliamentary Procedure event this year and having competed in HOSA competitions both last year and this year, CHS junior Meenakshi Subha Vipin said this year's area competition was more exciting than last year.
"It was really exciting," Vipin said. "It was at Allen High School, one of the biggest high schools in Texas. We were all so pumped to see how the awards ceremony and our competitions would go."
CHS junior Tisya Yadav, who made state in the HCIE event, thinks the broad variety of competition helps every HOSA competitor have a shot of learning and competing in something they're truly passionate about and interested in.
"They have a variety of competitions you can compete in, and it's pretty cool because they have competitions like forensic science, anatomy and physiology and medical spelling," Yadav said. "Everyone has different skills, but they can compete in competitions that they are good at, and it's not just a specific type of competition or just a test, it's something that you're interested in."
Follow Avani (@a_munjii) and @CHSCampusNews on Twitter.