Student of the Week: Cusano's love for education qualifies for state in TAFE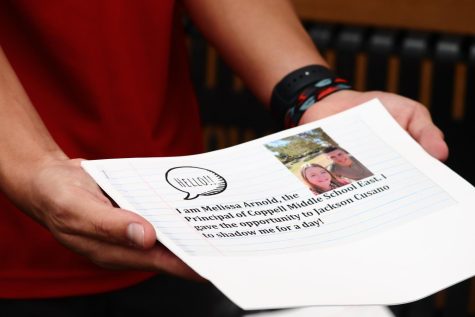 Coppell High School junior Jackson Cusano's enthusiasm for teaching and dedication to his fellow students has helped him to advance to the state level of the Texas Association of Future Educators (TAFE) Competition in the Exploring Education Administration Careers category. He was able to persevere using his passion for education to overcome his struggles.
How long have you been a part of TAFE and the education and training cluster?
I've been part of the education and training program since my freshman year, and I started having a real calling for teaching right around eighth grade. I went into the year thinking I was going to do something completely different than education, but when the kids of the class of 2025 came to [Coppell Middle School East], that was that breaking point for me. They would rely on me and ask, "Hey, can you help me with my locker?" or "Hey, can you help me with this math project?" I could see how helping those kids was suddenly so much bigger and so much more rewarding. Those kids still want to talk to me today; they still walk up to me and ask me how my day is going. I always say they're my little East babies, and they're my inspiration.
What are the biggest achievements you have made and the biggest challenges you've faced in TAFE?
One of the biggest achievements I've made is making it to state because I'm not a big public speaker. Yes, I can talk to an adult or talk to a teenager, but I'm not someone who wants to get up in front of 500 people. That's why making it to state was a really big goal because I have learning differences and when I speak, I get nervous and when I get nervous, I start to sweat and when I start to sweat, I start to stutter. I have always felt like that has been the biggest setback in my life and has been the thing that just kicked me to the road every single time I present. So when I made it to state, I felt like I could talk in front of people and there wasn't a problem. Some of the most important people in history have learning differences, but they still made an impact in this world. That's exactly what I want to do with kids.
What makes you want to become a teacher?
The real reason [for] me, that has taught me to love on kids and love on people that are broken in this world is Principal [Laura] Springer. She loves so big and loves everybody; she's the reason I want to become a teacher. Because in life, kids are not looked at like these people that just go to school. School is their job and sometimes they go home, and they don't have a mom and dad, but they do have a school mom and dad. It's their teachers. It's the people that they can hold on to their hand, and they can pick them up. When a student comes to a teacher crying, they trust that teacher. They trust that teacher with their life, with their life story, [with] what's going on. That's why teachers have to listen, and if you can't, then I'm sorry, being a teacher is not for you. It's not a career for everybody; we don't become teachers because we want the money, we become teachers because we want to make a difference in a child's life. One day, I might be living in a crummy one-bedroom apartment with my family, but if I go to school every day and I love and appreciate my students, I'll make an impact on a child's life. And that kid will graduate, that kid will become a lawyer, that kid will become a teacher, that kid will become a doctor, that kid who never thought they could be anything. That is why I want to become a teacher.
Follow @CHSCampusNews on Twitter