Beecher named 2022 Texas Teacher of the Year by Council for Learning Disabilities
On early mornings at Coppell Middle School West, sometimes all teachers need is a warm cup of coffee. CMSW Active Learning teacher Schuyler Beecher is no stranger to the feeling, and so she's employed it as a valuable social/emotional learning opportunity for her students with diverse needs. 
Because of engaging projects and meaningful relationships with students, Beecher was named the Texas Teacher of the Year by the Council for Learning Disabilities on Oct. 21 after being nominated by her mentor at Texas Woman's University, where Beecher is simultaneously working towards her PHD. 
"She deals with our most profoundly disabled students: students that are nonverbal and students that have profound medical and intellectual disabilities," CMSW Principal Dr. Sarah Balarin said. "She's very individualized, meeting every kid's needs even when there's a wide array of needs in her classroom. She really works on students' individual goals, and she's the best I've ever seen when it comes to being able to do that with several students in the room."
Beecher moved to CMSW from Town Center Elementary School during the 2021-22 school year and instantaneously made her mark. Through projects like the weekly coffee cart, Beecher offers students the opportunity to get out of the classroom and develop their communication skills. 
"My class is a life skills class," Beecher said. "It's more important for my kids to interact with people—strangers and adults rather. Soft skills are so important, that's why I do things like the coffee cart because [my students] have a harder time than most, so they need to be taught those skills."
She pauses and walks towards the door with a glowing smile to avoid distracting her students, leading the interview into the hallway. It is evident that these interpersonal interactions from brief smiles to words of affirmation are a significant part of Beecher's teaching philosophy. 
"When you are in special education, sometimes it's harder to build a relationship because the language may be more limited," said Active Learning designer Wendy Pray, Beecher's teaching partner. "She takes the time to really get to know [her students], their likes, their dislikes, things that make them just really happy or things that maybe make them happy but in moderation. Using all of that really helps her learners grow."
Dr. Balarin championed Beecher's receiving of the award, writing via email, "Schuyler leads through her own positive example," and nothing rings more true. 
In fact, Beecher moved to the education field because of her desire to serve. Prior to teaching students with learning disabilities, she worked as a behavioral therapist after earning a degree in behavior analysis.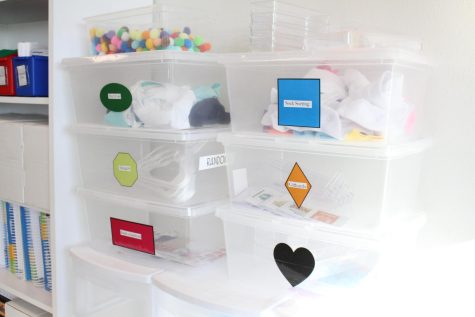 "I have a little bit of a different perspective when it comes to teaching techniques because I'm not a traditional teacher," Beecher said. "My clinical experience allows me to serve different types of learners."
But Beecher has her sights set on something bigger: expanding her influence by teaching future teachers by being a professor. 
"I have always wanted to make a bigger impact than what I can do just in one classroom, to take the things that I do, and teach other people to do them," Beecher said. "I feel lucky to be here, and I love Coppell. I love this campus. I have a good team, and I'm making sure to really hone in on those social-emotional learning skills: decision-making, community-building and relationship skills. Anybody can teach kids math, but not everyone can teach kids these skills."
Through research on the value of technology in the classroom as well as writing on how to develop social-emotional skills, Beecher capitalizes on her rich experiences, enabling teachers to make similar impacts in their classrooms. According to Dr. Balarin, Beecher forgoes a lot of what is prescribed to students with diverse needs.
"She is a believer in inclusion. Her students are kids that in a normal setting would typically be in the same classroom all day because they're not able to navigate the building on their own," Dr. Balarin said. "But she asks teachers, general education teachers [and] teachers of neurotypical students to invite her classes and get them involved. She makes herself known and advocates for her students and the experiences that she wants them to have."
In working to become a professor, Beecher is intent on expanding her philosophy and work to up-and-coming active learning teachers. She has never been one to do anything for herself, always willing to help others through patience and kindness because she values her student's experiences. 
"A child's joy is hands down the most gratifying thing," Beecher said. "Whether it's a sticker or figuring out a story that they want to read or watching them succeed, that's why I'm here."
Follow Shrayes (@shrayesgunna) and @CHSCampusnews on Twitter.