Making a family from Football: Odimegwu's mentality helps shape the Cowboys' season
A hyphen is an addendum, yet so often it functions as a qualifier. An African American whose Igbo is still developing, someone who is different but in some ways the same. Coppell High School senior linebacker Ike Odimegwu is more than meets the eye; someone who thrives in chaos and lives in (apparent) contradiction.
Odimegwu's definitions are as varied as the tackles he has on the football field, he leads both vocally and by example. His diverse leadership skills allow him to be the skeleton key of his team as he is able to connect and unlock the best version of his teammates. 
"Odimegwu is goofy but he's a leader," Coppell senior linebacker Gabe Warren said. "When things aren't going right, he'll change that. I don't think there's a harder worker on our team or anyone as talented. He pushes himself on and off the field and I don't know where I or [the team] would be without him."
Continuing to define himself, Odimegwu's coaches and teammates marvel at his dedication and determination to uplift himself – all through the lens of having fun. For Odimegwu, football is about his friends and family, competing and being the best.
"It just began at recess, I wasn't the best or anywhere near as good as I am now, but I had fun," Odimegwu said. "I started playing tackle football to get better at recess football. Anything I enjoy, I want to be the best at." 
The aspects of fun and childhood history don't detract from the seriousness of Odimegwu's approach. His shining smile and dazzling demeanor only scratch the surface of someone who has thought deeply about who he wants to be and how he wants to live.
"Growing up, I knew that I was different," Odimegwu said. "I never understood or appreciated it, but as I grew older I started to understand how special it is to be where I'm from and who I am; Igbo means everything to me, whoever my partner in life is, I'd want her to be Igbo, I want to live my life with Igbo values."
His value-centric outlook and instant connective ability was reflected and respected by his teammates, with the title Odimegwu-Cowboy captain adding another hyphenated description to who he is.
"He's vocal when he needs to be," Coppell assistant Abu Conteh said. "He's one of our [best] players and he has the respect of the guys around him; they know they can rely on him, they know he'll get the job done. He leads and the guys have bought into him."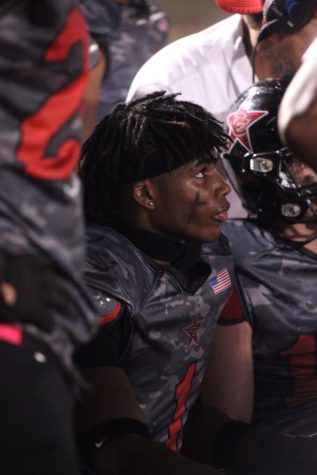 Football is Odimegwu's outlet – it's where he can both follow in the footsteps of his older brother [Coppell 2021 Graduate Odi Odimegwu] and continue to develop more definitions of who 'Ike Odimegwu' is.
"My older brother," Odimegwu said. "He played basketball, and I saw how much he loved it – the teammates, the competition, the fun – he was always in the gym trying to get better, I try to do the same. I'm always working to get better and be the best version of myself."
His love for football stems from not only his love of competition but also his love for his adopted 'brothers.'
"It's a little bit of two things: teammates and competing," Odimegwu said. "I have fun becoming brothers with my team but I also love the rush of competing, the feeling of winning; I enjoy everything about it."
With his competitive spirit developed from following a driven older brother, his ethical values derived from a growing connection to his ancestral heritage, and a blossoming brotherhood engendered by his foundation of football; Ike continues to develop who he is and who he'll become.
"I just watch him blossom more and more every week, he's getting more and more confident and he's learning what we're expecting," Coppell coach Antonio Wiley said. "He's a leader in every sense of the word; someone who knows when to hold his guys accountable and when to be there for them. The whole team benefits from his approach and his high level of play."
For now, Odimegwu is a senior, football captain and younger brother – but as he continues to grow, the 'Awesome Lion' (Odimegwu in Igbo) will continue to add to who he is. Although he seeks to grow in every facet of his life, his goal for this year is about those around him.
"Winning for Coppell is big," Odimegwu said. "This is going to be a year people talk about for a while, it's our senior legacy. I want people to remember us like the '9-1' Cowboys, grasping the hearts and minds of a community."
Follow @SidekickSports on Twitter.