Respira brings out vim, vigor on stage
The curtains open, the glowing lights hit the risers, illuminating the stage of the Coppell High School Auditorium. There, stands the faces of Respira, ready to roll and give whatever it takes.
Respira, Coppell High School's treble show choir, held its annual fall dessert show on Saturday and Sunday. Every year, Respira conforms to a theme to create a distinct atmosphere to their audience, and this year it was "Whatever It Takes."
The theme takes inspiration from music with a dynamic and upbeat sound. The songs, "Livin' On a Prayer" by Bon Jovi, "Shake it Off" by Taylor Swift, "Wake Me Up Before You Go-Go" by Wham!, "Moments We Live For" by In Paradise and the song that opens and represents what the show is made out to be, "Whatever It Takes" by Imagine Dragons were performed.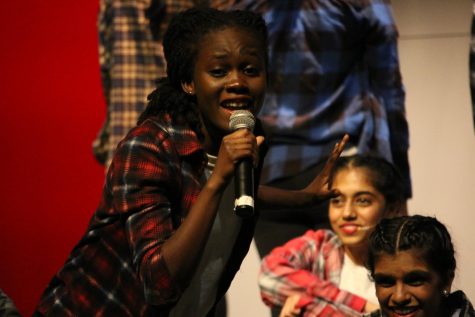 The energy the songs exude is matched to the energy Respira expresses as they dance and sing. The singers harmonize with one another, moving simultaneously to the tempo of the music, and maintain a lively composure. Their chemistry generated a fun aura.
"Everyone loves everyone [in Respira] and no one makes judgements about each other," Coppell High School senior Mihira Kada said. "We always help each other out and make sure we are on the same page and supporting one another."
The Respira members have been on it, rendering and perfecting the choreography of the show since the summer. Guided by Coppell choir music directors Bona Coogle and Aaron Coronado and choreographer Ashley Kimbrough, they worked effortlessly.
"My favorite part as we were performing was showing off all our hard work to the audience and seeing their reactions," Respira sophomore Monica Tupurani said.
In addition to the main songs, there were various filler acts throughout the show in the forms of solos, duets, and trios. Respira freshman Olivia Bennet sung "Rescue" by Lauren Daigle, sophomores Sweetie Ansah, Minori Kunte, and Varsha Vijay performed "Bills, Bills, Bills" by Destiny's Child, Kada and juniors Megha George and Samiksha Routhu performed "Baraso Re" by Shreya Goshal, and juniors Ana Jesayen, Divya Ghanta, and Akshara performed a medley of "Almost There" by Anika Noni Rose, "I've Got a Dream" by Zachary Levi, and "9 to 5" by Dolly Parton.
Coppell Middle School East and Coppell Middle School West show choirs also gave performances throughout the show.
"I enjoyed seeing my [choir] come to life, seeing all of their smiles, and watching them have a good time," Coppell Middle School West choir director Allison Hartzell said. 
The chance to perform alongside the Respira choir opened the eyes of the kids of Coppell Middle School East and Coppell Middle School West on how it might feel to be a part of it in the future.
"It was nice to watch [Respira] and observe what Respira would be like in high school, because I also would like to be part of it next year," Coppell Middle School East show choir eighth grader Diya D. said.
As Respira has been part of the Coppell High School for many years, long-lasting traditions have also been implemented, including serving dessert to their audience and performing a box song.
An assortment of cupcakes were given out during the intermission of the show for people to have a treat before the second half of the show.
The box song is to showcase the seniors of Respira, and let them have the spotlight one last time before they leave for college. Kada and Coppell High School seniors Lauren Chieh, Shriya Srivastava, and Respira 2022-23 captains Olivia Speir and Swara Akinepalli alongside the rest of Respira perform "Fight Song" by Rachel Platten to honor their last year as a Coppell High School choir member.
"Being a captain of Respira during my senior year was stressful at times but feeling like a leader to these amazing, talented people felt incredible and I wouldn't change it for the world," Speir said. 
Respira closes their show bringing everyone on the stage together, showcasing and thanking the people who made the show what it was. Smiles were plastered on everyone's faces and hands were held as they bow to their audience. 
"I want to thank Respira for helping me get out of my comfort zone," Kada said. "Show choir has become one of my biggest passions because of the wonderful people in it."
Follow Sahasra (@sahasrachak24) and @CHSCampusNews on Twitter.