Letter from the Editor: Unpredictability is motivation
The epitome of beauty can be described as Michelle Pfeiffer, specifically her character Elvira Hancock in the 1983 film Scarface. Her perfectly shaped eyes, slender cheekbones and sharp jawline immediately catches the attention of gangster Tony Montana, who naturally must have her.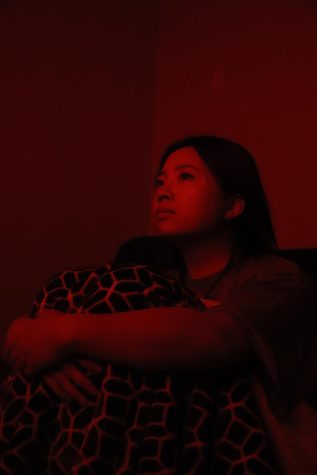 After watching the film for the third time, I got my hair cut by Gina at Hair Story, a Korean hairdresser located inside HMart with vibrant shoes and the same name as my mother. I showed her the reference picture of Hancock. 
I couldn't quite read her facial expressions while she analyzed the image, but she assured me that she could do it. I sat patiently as she tied my long, dark brown hair into a ponytail before lopping it off and whisking it away. I sat silently in the chair as I waited for the damage to be completed. I tried to convince myself in a million ways that the cut was chic; that I didn't look like a mixture of a stereotypical "Karen" and my grandmother. 
After coming home with my new style, my parents were incredibly confused as to why I chose the haircut. It clearly did not suit my round, dark features, almost the polar opposite of the glamorous, sharp face Pfeiffer possessed. At the time I felt extreme regret. 
In another instance, I settle down on the plush sofa and clutch my blanket tightly. My legs are curled tightly to my chest, my heart beating rapidly as my eyes stay glued to the screen. The scene is quiet, the young girl playing in the room of Annabelle. All of a sudden, the instrumental flares and I start screaming. 
For the next week, I lived my life in fear. I struggled to sleep at night, sweating buckets but refusing to remove the thick blanket that smothered me. I think about all the ways a demonic entity could possess me, how a burglar may be hiding in my home or any other gruesome ways to die. 
Despite this extreme fear and paranoia I experience after watching a great horror movie, I still continue to look forward to the next blockbuster horror film. 
Just like how I know that drinking coffee will make me anxious and jittery for the rest of the day, or that I'll regret not finishing the  assignment at night or that Whataburger will not give me the honey butter chicken biscuit sandwich before 11 p.m., I still drink the coffee, go to sleep without completing the assignment and ask for the sandwich, hoping for a different outcome. 
These are questions that I ask, yet onesI know the answer to. However, there are instances where I have been pleasantly surprised. 
After recently watching the movie Smile, I fully expected to live in fear for the next week.  Although being initially jumpscared in the theater several times, the movie surprisingly did not have any lasting impact on my psyche. 
On a recent trip to Whataburger after the Blackpink concert, it was 10:46 p.m. and I decided to ask for the honey butter chicken sandwich. Although I fully expected them to turn me away, they gave me the sandwich before 11. 
My mom and I enjoy getting coffee together, our recent obsession Dutch Bros. After consuming an Irish Kicker with soft top and caramel drizzle, I dreaded the restless night ahead. To my surprise, I felt energized enough to finish my homework and was able to fall asleep easily. 
I find enjoyment in this aspect of unpredictability. Although some may see this as setting myself up for failure, I find motivation in the fact that the answer might be different than what I originally expected. Although the Pfeiffer haircut did not suit me, if I hadn't gotten it, I would've always wondered what if? 
This haircut was definitely not the best decision of my life. Some may even say it was self-destructive. However, the ability to pursue the possibility even though the outcome was something I had anticipated to happen is something I do not regret. 
If I had stayed away from horror media, I would have never watched American Horror Story, which is one of my favorite TV shows. If I never drank coffee, I would have never discovered how delicious cold brew can be. Although I will admit I have always regretted saving my work for the next morning as it never worked in my favor. 
Without the initial motivation to still try things, despite feeling like I already know the outcome, I would have missed out on several opportunities and key defining moments in my life that have made me who I am today. 
Follow @angelinaliiu and @CHSCampusNews on Twitter.