KCBY nominated for NATAS Student Production Awards
The Lone Star Emmy state chapter of NATAS (National Academy of Television Arts and Sciences) recently announced its annual Student Production Award nominations from the 2021-22 school year, with members of Coppell High School's television station, KCBY-TV, among the nominees.
NATAS is a national service organization dedicated to achieving excellence within the television industry and has various chapters across the country, including the Lone Star chapter. The Student Production Awards is one of the many honors distributed across the state of Texas and is given to high school and college students that have participated in the making of exceptional pieces of media.
KCBY members were nominated in six different categories.
CHS 2022 graduates Hally Leonard (program director), Conner Escobar (program director), Jada D'Silva (program director) and Thea Massi (program director) were nominated for the High School – Newscast category in weekly broadcast.
"North Texas Real Estate Boom" was nominated under the High School – News: General Assignment – Serious News category with the contributions of Massi (reporter/producer/camera) and current juniors Chloe Kryzak (camera) and Parker Jones (camera).
"It's really cool I got nominated, because last year was my first year in KCBY," Kryzak said. "My overall motivation was that I wanted to contribute to this project to prove that I am serious about KCBY, and I wanted to make my teacher proud because she cares a lot about this organization."
Both "Homecoming FB Vs. Plano" and "Mental Game of Basketball" were nominated under the High School – Sports category. Contributors of "Homecoming FB Vs. Plano" were Massi (reporter) and current senior Mau Sigler (videographer). "Mental Game of Basketball" was created by Massi (reporter/producer), Sigler (camera), CHS 2022 graduate Will Manchester (camera), and senior Cooper Leffingwell (camera).
Under the High School – Fiction category, "Dazed" was selected, made by Leonard (director/producer/writer) and Escobar (director/producer/editor).
Seniors Sidd Sivakumar (producer/editor/camera), Brian Bjorksten (producer/camera) and CHS 2022 graduate Kevin Sangerhausen were nominated for their production "Shop Local" in the High School – Commercial category.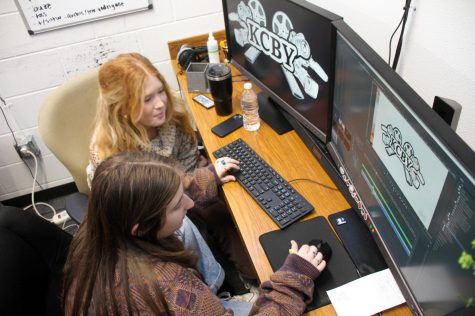 Massi was nominated for her work as a reporter in "Thea Massi Talent Reel​" for the High School – Talent category. 
"The nomination that made me the most excited was the talent reel," Massi said. "It has highlights of my sideline reporting for football. Sideline reporting was something I really cared about and worked hard for, so it was nice to see I was recognized for that."
Winners will be announced on Nov. 12 by the Lone Star Emmy state chapter.
"Any time your work is recognized by a professional organization, it sets you apart from your peers," KCBY adviser Irma Lazos‑Kennedy said. "For the students that win, they will qualify to be nominated at the national level." 
More information regarding these awards and the organization can be found here. 
Follow Sahasra (@sahasrachak24) and @CHSCampusNews on Twitter.