Academic Decathlon provides safe haven for students wanting to grow personally, academically
It's quiz day. You look down at the first question with sweat dripping down the back of your neck. What was the age of George Washinton when he was first sent to the Ohio River Valley to confront the French forces in 1753? 
What is this course you ask? It is Academic Decathlon. 
Academic Decathlon is a multidisciplinary competition that thousands of high school students compete in every year. The competition ranges over various subjects such as history, literature, art, science, mathematics, economics, and music. These topics center around an annual theme, this year being the American Revolution. Students work all year long to thoroughly prepare themselves for the competition that takes place during the spring. 
"The thing that intrigues me is not that it's like a class, it's that you are competing against other schools," Coppell High School Academic Decathlon teacher Tim Dixon said. "All [the topics] work together with the history. Most people don't make those connections, but AcDec brings so many things together."
The competitiveness and student-led aspect of AcDec lays a firm foundation for students in their future. The academic rigor of the course and the memorization of various different topics prepares the students for college and beyond. The class also puts emphasis on studying and reading. 
The textbooks the class uses are provided by the official Academic Decathlon organization, so every question on the competition will come from those textbooks. Academic Decathlon Historian, sophomore Nishka Vartikar, describes the challenges she faces when studying for the course.
"The class is hard because it is so heavily memorization based, and it tests the tiny details. When I first started, I studied for hours and hours each day," Varikar said.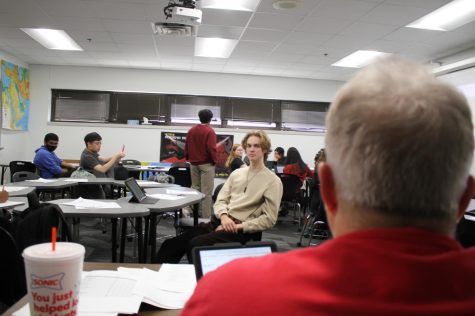 Coppell High School sophomore Sai Kasiraman decided to take AcDec to fill a spot on her electives's list. Hesitant about the class at first, Kasiraman explained how the environment of AcDec felt welcoming with teamwork and a healthy amount of competitiveness. 
 "There is a lot of stuff you do, but that has made me more organized and a more regimented person," Kasiraman said. "If you want to show your well-roundedness to colleges, AcDec would be a way to do that."
Although the students are essentially competing against each other for the nine combined spots on the A, B, and C teams, collaboration between each other is huge for success within the class. The students' commitment to the team is displayed by their frequent study sessions after school hours and even on the weekends. 
"We all have roles to coordinate studying sessions that aren't during school hours," sophomore AcDec treasurer Kaelyn Liu said. "I definitely think it brings the team together. It's getting to work with other people and recognizing that certain people in the classroom have different strengths and abilities. We bond really well as a team, and we try to improve each other. We share knowledge to make our school's team better as a whole." 
Vartikar thinks teamwork fosters connections between students and is beneficial to them in the long run. 
"Teamwork plays a big role in AcDec," Vartikar said. "Having connections with classmates is important. We get to work with upperclassmen, which I was intimidated by at first. [It] is useful because they're more experienced with AcDec and provide useful advice."
AcDec helped Vartikar step out of her comfort zone. 
"AcDec has made me a lot more comfortable doing things like speeches or presentations, and it also helped me find study methods that work for me," Vartikar said.  
AcDec challenges students into better versions of themselves. Dixon explains how one of his students, who was going through a tough time with the death of a family member, benefited greatly from joining AcDec. 
"All of a sudden, she ended up getting into the McCombs School of Business [at the University of Texas]," Dixon said. "That's [one of] the hardest schools to get into in the nation. It started with AcDec. [AcDec] brought her out, and it helped her talk about it, and she started engaging in school.  AcDec is the perfect environment for students who may have struggled for whatever reasons.
"All of a sudden, I realized that [it] was really cool to work with those kids and watch them grow, and I have seen amazing turnaround stories. There's kids who struggle with things and all of a sudden a light goes off."
Follow Divya Sivalenka (@DivyaSivalenka) and @CHSCampusNews on Twitter.