Following in mother's footsteps
For Coppell senior outside hitter Skye Lamendola, volleyball is not just a sport; it has been her way of bonding with the people closest to her.
LaMendola's love for the game came early on, influenced by her familial surroundings. Janice LaMendola, Skye's mom, played volleyball at both Kankakee community college and University of Arkansas at Little Rock. She became a volleyball coach at Greenhill High School in Addison; she no longer teaches.
"My mom played [in college] and coached volleyball," LaMendola said. "I've been around it my whole life."
Born in Las Colinas, LaMendola moved to Coppell ISD at the start of her eighth grade year from Greenhill School in Farmers Branch. The change from public to private school allowed her to gain a new perspective .
"There's so many people at this school compared to a private school," LaMendola said. "I like that you meet people from every walk of life."
Having played volleyball recreationally since elementary school, LaMendola joined the Excel volleyball club in Carrollton when she was 14.
LaMendola earned a spot on the Coppell varsity volleyball team her freshman year and now holds the position of a team captain. She values communication and works hard to stay on the same page as her teammates.
"I lead the whole program and talk to them during practice if something needs to change," LaMendola said.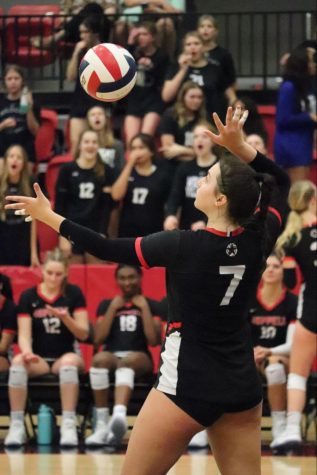 On top of her volleyball schedule, LaMendola balances her academic responsibilities, too. She uses a few tricks she has picked up to achieve all of her tasks successfully.
"It's getting in the right headspace to make sure you discipline yourself," LaMendola said. " I set alarms to make sure I have some time to relax and do my work."
The ability to learn from her experiences has led to LaMendola becoming a role model for the girls on her team.
"She has, over the years, developed a good leadership style with the girls," Coppell coach Robyn Ross said. "They look to her for guidance and stability."
With her killer volleyball instincts and quiet demeanor, LaMendola's personality is not visible to an outsider looking in.
"I get that I'm intimidating because I'm quiet," LaMendola said. "But, once you talk to me, I open up."
As well as it being a sport, volleyball has given LaMendola the opportunity to bond with the people on her team.
"We were in our last tournament to qualify to go to Open Nationals and we swept everybody," LaMendola said. "It was so fun with the whole team because we manifested and wrote [it] down."
As well as having fun times, LaMendola and her team have been able to grow side by side all throughout high school, both in and off season.
"It's been us maturing with each other," Coppell senior setter Taylor Young said. "Getting a better court connection and evolving together"
Her volleyball community has been a beneficial support system, but LaMendola's biggest fans share her last name, notably her parents Janice and Daniel LaMendola.
"My mom and dad come to every game they can, as well as my sister [senior Jules LaMendola]," LaMendola said. "They always buy my courtside cutie shirts."
LaMendola graduates in May and is planning to major in pre-law while playing volleyball. She has not committed to a college at this point.
After college, LaMendola will shift her plans regarding volleyball and her professional career.
"It's not something I'm going to pursue professionally," LaMendola said "I'll probably join an adult [league] or play on the weekends; I don't think I could just let it go."
Looking back on her previous seasons, Lamendola has gained insight of what is most important; the present.
"Put everything you can at that moment because you'll never have another chance to," LaMendola said.
Follow Maya (@mvpalovalley) and @SidekickSports on Twitter.