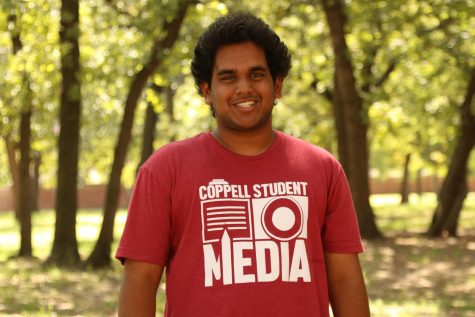 Meer Mahfuz
Meer and I have had our arguments over the years – about just about everything: how to run a section, which sports are more important, whether it's valid to make your bed in the morning. We're both argumentative people, and we often can't find that "agree to disagree" common ground. But at the end of the day, I will always respect him as the best sports journalist I've known. 
I'm writing this on the day we covered a baseball game (Coppell vs. Rockwall) together, something he found out about at the last minute and was desperate to cover. I had the ideal camera lens for sports photography, so I took photos. We bickered the entire time. He also answered every question I asked him about the sport with quick explanations, no hesitation as he live tweeted furiously, with only a few jokes about my noviceship when it came to baseball writing. He is the same when it comes to asking him for help with my coverages or galleries.
He has an unmatched dedication to our program's sports section. Meer is knowledgeable and dedicated, fueled by an unfiltered interest in every aspect of most sports. He's got his lesser favorites, sure, but he knows more about them than anyone else nonetheless. This is all without mentioning his excellence in writing, even when he diverges from his beloved sports section. 
So Meer, congratulations on three productive years on The Sidekick. You will always be my sports go-to, and I think you wouldn't have it any other way.