Hazleton inducted into Thespian Hall of Fame
Accomplishments take the stage, receive recognition through CISD community
Receiving an award, most look at it as an accomplishment to reward one effort; however, one experiences recognition for all of their efforts 
On Jan. 29, the Texas Thespians, a sub-chapter of the International Thespian Society which nurtures talent in middle and high school theater students, educators, programs and schools, held a luncheon at the 2022 Educator Conference to honor those who were inaugurated into the  Texas Thespian Hall of Fame, an honor bestowed on theater individuals for 20 years or more of their service contributing to educational theater, by restating their history. Coppell Middle School West theater director Franci Hazleton was one of two theater educators inducted this year.
"I am one who likes to sit on the sidelines," Hazleton said. "I don't like the limelight. I stand back and let my kids shine. It was almost embarrassing, but it felt good. I have put many years in, and it's nice to have it recognized."
Hazleton has been in the Texas Thespians organization for 46 years. During her time at the organization, Hazleton was a program chair and festival director.
After learning of Hazleton's experience with the Thespians, raising theater productions funds and ordering costumes, Coppell High School theater parent Tally Leonard nominated Hazleton for the Hall of Fame award.
"She was very instrumental in building the program for them to have a junior level," Leonard said. "The Thespians really relied on her and her years of experience in theater education and background. Knowing all of her involvement with state festivals, being a sponsor and advocating for them, I just knew that she was the person for the award.
Hazleton has shaped the program by installing Junior Thespians, a program of the International Thespian Society designated to reward and provide educational opportunities to sixth to eight grade theater students, in Texas along with the Junior Thespian Festival. Through the programs, abundant opportunities for middle school theater students to expand their skills through competition and educational events became available.
"The [international] junior thespians came in the early nineties when they realized there was a lot of junior theater; at that point, I was teaching high school, but I still thought it was important to bring the juniors in," Hazleton said. "I started in the mid-1990s saying we've got to do something for the junior thespians. Now in my career teaching juniors, I have found it's even more important that these students be recognized as well."
Twenty years later, the Texas Junior Thespian Festival now has three regional festivals supporting over 3,000 students. Due to her efforts, her students have competed in state level acting and technical events, earning Superiors at the national level and performing at state and national festivals. 
"I think her passion is contagious. When you're around her, it's hard to not be excited about what she's excited about," CMS West Principal Dr. Sarah Thornton said.
Hazleton's career began at an early age when she found her calling for theater after stepping onto the stage for a school play and traveling abroad through Europe, witnessing theater throughout the world. 
"My fourth grade teacher, Mrs. Barbara Myer, put me in my very first play and that was when I first thought, 'I love this,'" Hazleton said. "As a teacher I wanted to give that opportunity to my students because it was a positive experience for me."
Hazleton had a smooth transition to high school theater at Anderson High School in Austin after returning to the United States. At the end of her sophomore year, she was inducted into the Thespian Society by her high school teacher Robert Singleton, a 2011 Hall of Fame inductee. 
After graduating 1978, Hazleton started her professional career in theater in the early 1980s working at the Seattle Repertory Theater and the Seattle Public Theater Bathhouse as a costume designer and stage manager.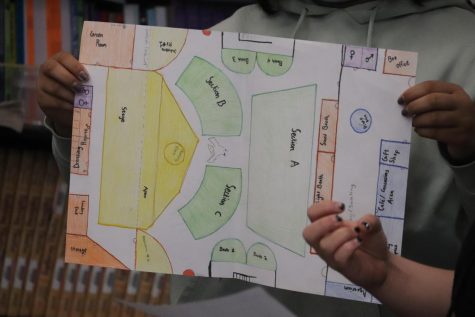 "The thing about theater is everything ties to work as one piece and it gives everybody a chance to express themselves," Hazleton said. "My shyest kids are often the ones who do best on stage because they can be somebody else for a day. That is why I have a passion for theater, it opens kids up to who they really are."
Teaching has been a part of her family with her great-grandmother, grandmother, mother and father following the career pathway. Hazleton received a degree in curriculum and instruction at Texas A&M University. She has been in educational theater for 32 years since then, including 20 years of directing at Coppell.
Early mornings, late nights, weekends and holidays are carved out of Hazleton's schedule to create theatrical performances at their prime and simultaneously juggle schedules of three grade levels. Her dedication is seen by her students, coworkers and Dr. Thornton.
"We're incredibly proud of her," Dr. Thornton said. "She's had a long career teaching theater for middle school students and had a lot of success in keeping this program growing and remaining engaging for our learners. I'm always impressed by what she can do with middle school students." 
Theater is not just a passion, but a lifestyle for Hazleton. She plans on finishing her chapter at CMSW, retiring from teaching in three or four years. However, she flips the page and starts a new beginning in theater as a UIL critic judge for One-Act Play. Hazletoon sees herself working with the Thespians and UIL, both as a mentor and judge.
"I'm getting to the end of my career, [but] I'm not there yet," Hazleton said. "I will never stop working in theater in some way or another if I can help others."
Follow Minnie (@mridinigazawada) and @CHSCampusNews on Twitter.