Taken back in time through showstopping talent
As the auditorium dimmed and the audience soon hushed, the stage was dark and dull. The curtains lifted and suddenly, the space was filled with a whirlwind of purple and blue.
The Vivace! choir concert was Sunday in the Coppell High School Auditorium. The performance theme was a musical rewind, a homage for the time missed during the COVID-19 pandemic. Each song was one of the past, ranging from crooning love stories to captivating musical numbers.
The afternoon show was a success in all aspects. 
"The team put in a lot of work and it paid off,"associate choir director Aaron Coronado said. "It was super smooth from a technical standpoint and from a performance standpoint." 
Many people attended due to the clever marketing executed by the whole team.
"We advertised a lot for this event; I know I personally sent this to over dozens of people," CHS junior Sumita Bhattacharyya said. "I think the turnout was pretty good."
The show was split into two acts, with the Coppell Middle School East show choir opening the second with classic hits from Disney movies. 
As the show went on, the audience became more and more engaged with the performance, giving appreciative hollers during solos. 
"It was really amazing the crowd had so much energy," Bhattacharyya said. "They really helped us out."
The group blew away everyone in the room with their skills, including themselves. 
"We sounded the best we've ever sounded and danced the best that we've ever danced," CHS junior Olivia Speir said. "It was overall a great experience."
The success was not from luck, but from countless hours of dedication and effort from everyone involved.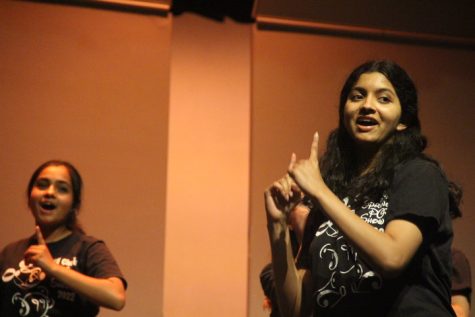 "We've been preparing since January when they auditioned and became a part of this group," Coronado said. "It's been months in the making, lots of rehearsals even after school."
A video celebrated the experiences in choir of various Vivace! members.
"It's genuinely like a family that's created and the people that I've met in this are amazing," Speir said. 
With the Vivace! performance being in late spring, the show means even more for the family as each member transitions into the new stages of their lives. 
"This is my last year here with all the seniors and I'm going to miss them so much," Bhattacharyya said. "I know next year is going to be even better."
Follow Maya (@mvpalovalley) and @CHSCampusNews on Twitter.