Coppell scores victory in second game against Marcus
After a successful first inning with four runs scored by the Cowgirls, a Coppell victory was ensured in Friday's softball game against Marcus.
"We put pressure on the defense really early," Coppell coach Ashley Minick said. "Marcus had a few bad throws we took advantage of, and we bunted a lot."
In the bottom of the first inning, Coppell senior outfielder Adrianna Erichsen reached on a leadoff triple. The next batter, Coppell junior outfielder Hannah Gullatt, batted and reached second base, allowing Erichsen to score the first run of the game. 
"Adrianna's leadoff hit to get us going was key," Coppell senior pitcher Kat Miller said. "Our confidence for this game was great and we kept chipping away on our offense."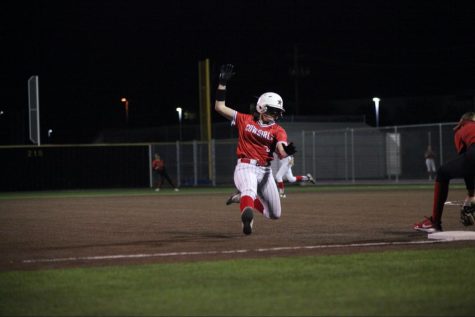 The batter after Gullatt, junior infielder Emily Fischetti, singled. Miller followed with a two RBI that allowed Gullat and Fischetti to score two more runs, giving Coppell a 3-0 score.
After Coppell freshman infielder Natalie Howell scored the final run of the first inning, the score was at 4-0, giving Coppell a big advantage on Marcus.
After a scoreless second, third and fourth inning, the Cowgirls were able to come back in the fifth inning, scoring three runs. 
"We started to get too excited at bat, and we swung at every pitch," Minick said. "Going into the fifth inning, we found our discipline and our success." 
At the bottom of the fifth inning, Fischetti led off with a double. Miller was up to bat next and reached first base. After closely reaching third base, Fischetti and Miller advanced to second and third base. After Coppell junior catcher Medleigh Danchak batted, Fischetti scored the first run for Coppell in three innings. 
"I was feeling energized, because I knew our team was doing well," Miller said. "I knew we'd continue to put forth the same energy, and we did."
Soon after, Coppell junior infielder Talia Stuchal batted, allowing Howell and Coppell sophomore infielder to score the final two runs for Coppell.
The Cowgirls previously played Marcus and lost in a close game, but were confident coming into Friday's game.
"We knew we could beat [Marcus], because last time, we only lost 6-4, and we knew we didn't play our best game," Coppell sophomore pitcher Maddie Sigman said. "We were able to hit the right spots at the right times."
Coppell plays Hebron on Monday at 7:15 p.m.
"We knew Marcus was a good hitting team, so our defense had to be solid, which it was," Minick said. "We were able to take a lot of bases, something we need to continue for the future."
Follow Yaamini (@yjois12) and @SidekickSports on Twitter.