Insecure to bold: Betgar transforms from timid member to vocal leader
A shy, hesitant 5-foot-3 girl enters a room full of guys that are technology enthusiasts. She tenses up and scans the room to see if there is anyone else that looks like her. Then CHS9 freshman Apurva Betgar was the only girl at the very first CHS9 Technology Student Association (TSA) meeting of the 2019-20 school year. 
"The first meeting I went to, I was actually really overwhelmed because there were a lot of guys in the club. I was like, 'this is OK, we can work through it'," Betgar said. "I was at first overwhelmed and surprised because I had no clue what I was doing. It was very scary and I was insecure." 
Fast forward to the 2021-22 school year, Betgar's junior year. She is the president of Coppell High School's TSA chapter consisting of approximately 180 members, majority of whom are guys. Her voice is heard all the way across the lecture hall as her big personality shines through her small stature. She grasps the attention of her members utilizing a gavel. She has a smile on her face and a heart that welcomes everyone. 
"Having a female president is definitely empowering for a lot of sophomores and freshmen as they have that 'Apurva can do it and so can I' type mindset,'" CHS senior TSA robotics rules manager Amita Satish said. "She genuinely is doing such a fantastic job. I'm glad she set a precedent for all the future women presidents that TSA will have."
Betgar grew out of her introverted personality through her experiences in a one-week Women in Technology Citibank Summer Internship during the summer, in addition to her involvement in TSA. Even though the internship was conducted in a virtual setting, she gained knowledge that significantly shaped her attitude towards technology.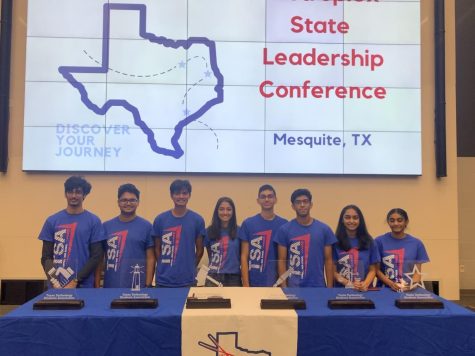 "Duy Nguyen, an engineering engagement manager and vice president at Citibank, would emphasize the importance of networking and being able to speak up," Betgar said. "He forced us to step out of our comfort zone. On Zoom it's especially scary because everyone has their cameras off and nobody is talking. He made us turn our camera on; we went one by one and talked comfortably. One thing that he said that really stuck with me was, 'the worst answer you could get is no.'  That was the key thing that helped me talk to people because I was like, 'what's there to be scared of, the worst answer I can get is no and that's OK.'" 
At the first CHS TSA meeting this school year, Betgar noticed that there was awkward silence and separation among the officers, as well as the members. Betgar implemented ice breakers into TSA meetings, as she observed the TSA state officers doing this at the TSA State Conference in Mesquite in November, in order to create a better environment. 
"In 10th grade, when both of us were officers, everyone saw TSA as a meeting that you had to get through in order to do this one competition at the end of the year," CHS senior TSA secretary Arnav Patil said. "But now I think TSA is a lot more lively and fun. We've done fun things with our members as well as TSA related activities, such as throwing parties and making paper airplanes."
Betgar has brought back VEX Robotics, which is an event within TSA where members can compete in robotics competitions. CHS STEM teacher Mike Yakubovsky asked Betgar to initiate robotics as several TSA members showed interest in it. 
The robotics team has become a significant element of TSA for the seniors, as it was not a part of TSA prior to this school year, because of Betgar's persona and interest in robotics. 
"Apurva was pretty nice at getting us together," CHS senior TSA treasurer Adarsh Pulasseri said. "She was sort of being a glue for our team so that we can get our stuff done and go to our competition. It's just all the robotics memories we had like dinner after our competition and when we all stood out in the freezing cold weather. She was the one trying to get us all to go inside our cars but we didn't. She was looking out for us. She doesn't give up. Even if things are going bad, she's always got a smile on her face. She's persevering."
Betgar strives to exceed the expectations of her position without compromising her own achievements as she qualified for the state-level of the biotechnology design event and the chapter team event this year.
"
One thing that he said that really stuck with me was, 'the worst answer you could get is no.' That was the key thing that helped me talk to people because I was like, 'what's there to be scared of, the worst answer I can get is no and that's OK.'"
— CHS junior TSA president Apurva Betgar
"Apurva offered to let practice sessions be hosted at her house," Satish said. "She was on top of everything. It was really fun working together to make sure that we reach our common goal of winning a tournament and making the best robot possible."
The motivation behind Betgar's accomplishments as president is due to her first-hand encounters within TSA. Betgar started to dive deeper into TSA by taking on leadership roles such as freshman representative and vice president in addition to participating in competitions. 
A desire to grow and gain knowledge is present in Betgar and thrives in her as she strays away from hesitancy and becomes a confident leader. 
"I remember back when I first met Betgar's teammates, they were from CHS9 competing in TSA," Patil said. "They were technically our competitors, but were still willing to share their project with us after my team's drone crashed and burned. She was still willing to help us. " 
Betgar's selfless nature and character is highly valued by Yakubovsky, which enhances his and the TSA members' experience in the organization. 
"She actually qualified for state in all of her events, but her first response was about how well the chapter had done," Yakubovsky said. "She was at the February TSA Regional competition at Flower Mound with signs and cheering other people on. That's her. She's always looking out for everybody else even though she might be involved in it. She's recognizing what others are doing and that's totally her."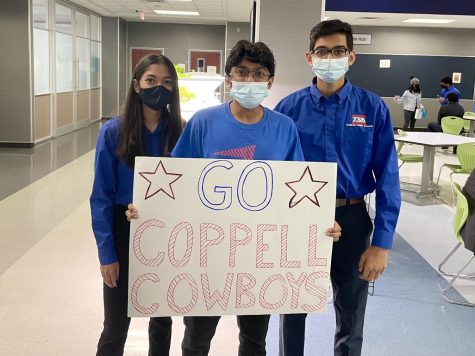 In the future, Betgar would like to pursue an education in robotics through a degree in electrical and computer engineering. She has undergone a transformation from a timid girl to a dominant figure in one of the biggest organizations at CHS, which is just a stepping stone for eliminating  the stigma against women in STEM. 
"If you look at big, influential people, the people that come to your mind are Steve Jobs, Bill Gates, Mark Zuckerburg and Elon Musk, a trend is that they are all guys," Betgar said. "There are no girls that come to your mind that are known in our society. I really want to work towards that, whether that person be me or some other woman." 
Follow Varshitha (@varshitha1128) and @CHSCampusNews on Twitter.