Yella dives into business, strengthens leadership through DECA
Sitting on the living room coach with a widescreen TV playing "Shark Tank" is what CHS9 vice president of administration Srithan Yella watched over the COVID-19 pandemic. The innovative products, the deliberation of sales and marketing captivated Yella to his calling: business.
"Watching 'Shark Tank' sparked my interest," Yella said. "It's really interesting how it works, the sharks and how the presenters market their ideas; that to me shows practically my interests in business."
"
A leader is someone who goes out of their comfort zone; I've been willing to go out of my comfort zone and make sure [members are] doing the same. I'm not just helping myself but helping others as well because at the end of that day, that's my role"
— CHS9 freshmen DECA vice president of administration Srithan Yella
In an effort to dive deeper, Yella entered CHS9's B hall collaboration space to attend the first DECA meeting of the school year and presented his officer election speech to lead the CHS9 DECA chapter.
"I wanted to run to take charge of the club and help the club progress well and work efficiently because I didn't feel that many people [were] stepping up," Yella said.
He was one of the six individuals elected and had an interview with CHS9 DECA advisor Kim Porter prior to securing the position of vice president of administration  regarding his leadership abilities 
"He's got [an] authoritative voice and he will command the attention of his audience easily and immediately," Porter said.
Yella's duties as vice president are maintaining attendance records and merit points. His duties are crucial to running meetings effectively as witnessed by CHS9 DECA vice president of finance Aryan Raj.
"Srithan compliments everyone else on the team," Raj said.  "When everybody works together with Srithan, it's really effective and everybody benefits from it."
Quality over quantity, a phrase reflecting current standards of society and leadership is a quality which many deem excellent. Porter thinks leadership is a crucial quality a student should obtain for the harsh future.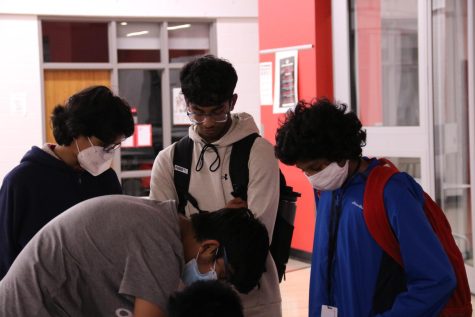 "In the business world, it's going to be important that you help guide people into the company's vision; so leadership skills are important for that," Porter said. "I'm always thinking about leadership [as] getting people to do something that they otherwise would not do on their own and that's what we try to train [into] leaders here at CHS9 DECA."
Yella found leadership through the CHS9 DECA club by organizing and conducting events, such as the popcorn fundraiser and the Chipotle Social Night. The fundraisers took place to ease members' concerns over the DECA state tournament expenses. The club raised around $1,400 of revenue.

Yella sharpens his communication and marketing skills through these fundraisers in hopes to become a better VP of administration as he leads the meetings. 
CHS9 DECA member Pranav Vegiraju notices Yella's contributions as the club progresses through the school year and as members look forward to attending meetings.
"He made it more than just a meeting," Vegiraju said. "We've been doing a lot of activities here at DECA, preparing for events, playing business trivias, kahoots [and] getting to know each other more than just members of the club, but as friends of each other." 
The opportunity of coordinating the fundraisers allowed Yella to be open minded with members by listening to their suggestions and directing members through the process. Yella thinks cooperating with others is an important characteristic as a leader and strives to integrate it to himself.
Vegiraju witnessed his determination as he took into account his idea of selling meme stickers,  as one of the two annual fundraisers. Yella went the extra mile by discussing it with Porter. 
"Srithan is an extremely approachable person," Vegiraju said. "Whenever I have any concerns, he's always open to addressing them."
With a background of public speaking through Coppell Middle School West Youth & Government debates regarding the deliberation of support to a personal proposed state bill being passed, Yella strengthens his qualifications; creating a future he dreams of leading himself and others. 
"A good leader [when] managing a business, you take control of the team in many aspects of the business. So I feel like that would fit my personality," Yella said.
Follow Minnie (@mridinigazawada) and @CHSCampusNews