Drumline innovates with back-to-back versatile pieces in "Purely Rhythmic"
Pale wooden stools, pure-sounding glass bottles and a hurricane siren were all unprecedented additions to the Coppell Drumline's annual show "Purely Rhythmic." This year's performance was held in the Coppell High School Auditorium on Saturday, the crowd full of family, friends and prospective CHS percussionists.
"Purely Rhythmic" offers CHS percussionists and percussion director Randall Nguyen an opportunity to highlight the growth and efforts of the drumline through a versatile program consisting of 26 songs, some of which even composed by students themselves. 
CHS senior Mario Torres composed a piece entitled "Valley," which premiered during the second half of the show. 
"It was wild, sitting back and having no control over the piece. I'm glad it came together," Torres said. "I just focus on the notes and enjoy the moment."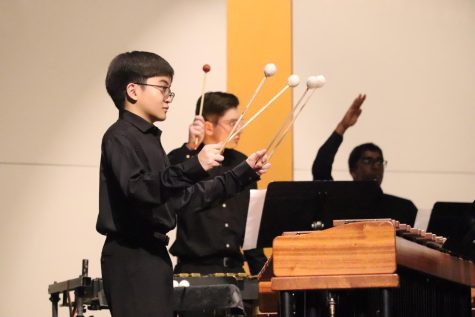 According to Torres, their preparation began in January, receiving their pieces only two months ago. And for seniors, those two months lead up to an unforgettable, final showcase of their time and development at CHS. In fact, a video was played prior to intermission created by CHS senior Jay Vanam to highlight the accomplishments and experiences of each and every percussion senior. 
"It was so exciting and such a full circle moment, having been here since we were little," senior percussionist Sarah Matthews said. "'CAT 5' was my favorite piece because it was so versatile; I got to play a marimba and play the percussive elements like a bass drum and a snare. I loved that it was intimate."
"CAT 5" composed by Andrea Venet capitalized on unique sounding instruments and a hurricane siren to mimic the effects of rain and fear. 
The effects of the innovative music performed by percussionists at "Purely Rhythmic" were evident across the audience with pervasive gasps and boisterous applause. 
"It's a ton of work to put on this program, so to actually see it back in the auditorium is a huge accomplishment," parent Wednesday Foster said. "This is [my] life with two boys in the percussion program, one a senior and one coming up."
This year's program also featured several guest percussionists from the Coppell middle schools as well as Team Islas: Patricia Islas and Doug Bush. Both Islas and Bush have worked with CHS' percussionists throughout the concert and marching season, to which this performance mended both worlds. Islas was on the marimba while Bush was on the drumset surrounded by select CHS percussionists to perform three pieces.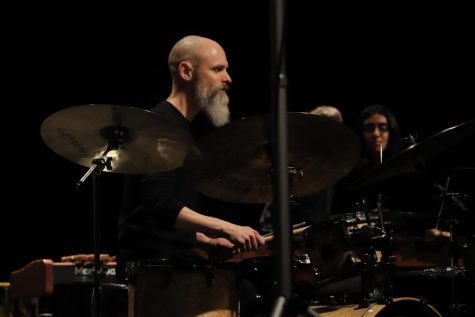 "It sounds very cliche, but it was a dream come true," Bush said. "They are absolutely wonderful students, this is a wonderful school to teach at, and getting to share the music with them is a once-in-a-lifetime thing."
Follow Shrayes (@shrayesgunna) and @CHSCampusNews on Twitter.