Fixing the hole in the bridge: preventing abuse before it happens
Suppose children are falling into a river every minute, one after another. The most logical solution would be to look upstream to find the root issue of why children are falling into the river. The root issue is a hole in the bridge upstream, causing children to fall into the river.
This is the principle of "upstream thinking" and lays the foundation of preventive care against abuse in relationships. By looking upstream at the root of the problem and educating youth about healthy boundaries and behaviors, the hole in the bridge is fixed before any more children fall down the river and face unhealthy or abusive relationships. 
Yesterday, the Coppell Cozby Library and Community Commons hosted a program on managing healthy relationships aimed at high school students and new adults. The program was led by Hope's Door New Beginning Center, a non-profit organization created to provide resources and shelter for victims of abuse. 
In yesterday's presentation, HDNBC community educator Ryan Thomas discussed relationships, boundaries and learned behaviors with a younger audience mainly consisting of middle and high school students. 
Starting out with a discussion about the distinction between healthy and unhealthy relationships, Thomas presented topics of different types of abuse, recognizing abuse in relationships, the importance of setting strong boundaries and learned behaviors of abuse. The presentation included a game called "Cute or Creepy?" in which the audience reacted with their first instinct to whether a given situation was welcomed or not.
"More often than not, students know what their boundaries are," Thomas said. "They just need guidance in recognizing how to re-enforce their boundaries."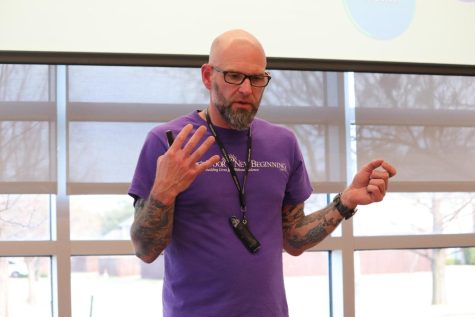 As the students followed along with the presentation, Thomas brought to light questions about setting boundaries and what constitutes healthy or unhealthy relationships. 
"I didn't realize how emotional abuse can be such a normalized part of any relationship," Coppell High School sophomore Tisya Yadav said. "Moving forward, I'd like to plan out my boundaries and what I'd want out of a relationship."
While the program focused on the don'ts of a relationship, it also focused on the do's. An emphasis is placed on the idea of self and how one can manage what they want from a relationship and how they want to treat others.
In addition to offering shelter and resources for victims, HDNBC also offers a court-approved program, Battering Intervention & Prevention Program, to help clients work on learned controlling behaviors in their relationships. 
"When we're young, and our world is small, whatever we observe is what we think of as normal," Thomas said. "It is important to tell people what's not normal to empower them to recognize that they have a choice on how they treat themselves and others."
After spending 10 years as a middle school teacher in Plano, Thomas took up the job as a community educator for HDNBC six years ago to make a meaningful impact on students and youth. As a speaker, Thomas meets young audiences to have conversations about boundaries that many teenagers have never had before.
"As a teacher, it's hard to see the impact you have on your students and talk to them about topics like this," Thomas said. "The students I talk to as a community educator show so much gratitude for having an adult talk to them about relationships, something not many people sit down and talk to them about."
Though students may not apply the information they've learned to relationships, Thomas thinks they can apply the same boundaries and tips to their friendships and sees value in teaching children early on the importance of knowing what they do and do not want. 
Thomas applies this principle of "upstream thinking" when educating students. 
"The difference is between a proactive and reactive approach," Thomas said. "If we could empower the youth to know and foster healthy relationships in the first place, then we can prevent needing any intervention later on."
Coppell librarian Morgan Green-Griffin coordinates programs for young adults such as yesterday's program. While many are fun activities for students, Green-Griffin hosts numerous educational programs for students.
"The big takeaway for our students from these programs should be that it's OK to talk about these topics," Green-Griffin said. "Often, teens have never had someone talk to them about healthy relationships, so we want to make it normal to have these conversations."
HDNBC provides various resources for any victim who is in immediate danger, including a 24-hour confidential hotline, two shelters in Plano and Garland and counseling.
"The emphasis shouldn't just be on others and what we don't want them to do to us," Thomas said. "Instead, focus on self-love and ask yourself, 'What do I want, and how do I want to be treated?'" 
Follow Yaamini (@yjois12) and @CHSCampusNews on Twitter.