Cowboys ride defense, pitching in scrimmage against Lake Highlands
On Friday, the Coppell baseball team hosted Lake Highlands in the first home scrimmage of the season at the newly renovated CISD Baseball/Softball Complex.
After two previous scrimmages, the Cowboys will play another before starting their season. Though this game was not scored, it represented an ideal start of the season.
"We've been playing pretty well so far," Coppell senior catcher Tate Hancock said. "So far, we've been working on improving our techniques with [Coppell coach Ryan Howard] that will help us succeed more."
The Cowboys' practices so far have focused on an aggressive playing style and a strong first inning to ensure success in the following innings. During Friday's scrimmage, the team was able to hit multiple fastballs and throw strikes throughout the innings. 
"We did a great job early in the game," Howard said. "We wanted to be really aggressive today and work ahead of hitters."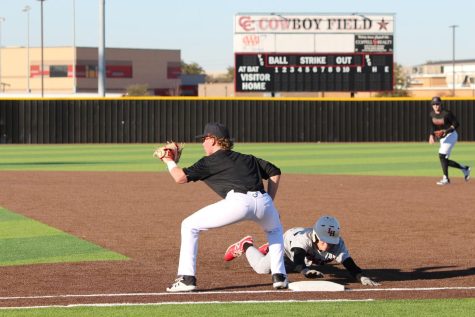 A few key players also help set the game up during the first five innings through strong pitching, good defense and aggressive plays as the team had practiced, leading to a stronger overall game for the Cowboys.
"We had a lot of good plays defensively," Coppell junior catcher Liam Krauss said. "Our center fielder Zach Darkoch made many good plays, and our pitching was also strong from Jake Maggio."
While most games are seven innings, the Cowboys played 10 innings in yesterday's scrimmage. They also played a school they have previously not played against, Lake Highlands.
"[Lake Highlands] had many great hitters," Hancock said. "They were a decent team and hit well early in the count."
For the Cowboys, the start of this year's season looks hopeful as they prepare for their first tournament at New Braunfels on Thursday.
Follow Yaamini (@yjois12) and @SidekickSports on Twitter.