Bamroo speeds through ranks in competitive racing
A young boy goes to the car mechanic's shop with his dad. He is absorbed by the environment around him. He is instantly amused by tools, sights of cars being repaired and handymen working away. 
Several trips to the mechanic's shop sparked a new interest for cars in Coppell High School junior Adi Bamroo. His love for cars expanded as he got older and started to watch motorsport racing with his dad Jayant Bamroo. Adi pursues his love for these areas by participating in competitive karting at K1 Speed Richardson. 
Racing may seem risky and dangerous to some, but Adi thinks that being educated about these risks allows racers to avoid such situations. He enjoys the sport. 
"The thrill part of it [compels me to racing]," Adi said. "It's so uncertain what could happen to you. I also like the simplicity of it along with that. There's so much strategy that goes into racing, but at the end of the day it's whoever passes the finish line first. You don't really think about anything else except when you are trying to win."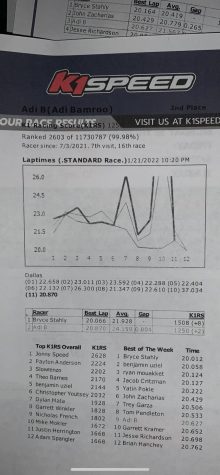 Based on K1 Speed Richardson data, Adi is ranked 2,603rd out of nearly 12 million racers that race there despite starting to race four months ago. He competes in the championship league. Mr. Bamroo has played a significant role as he takes Adi to the track and gives him tips. 
"He always gives me hope about the next race because he says there's always a next race," Adi said. "During the race, he will definitely help strategize in a way I can't when I am on the track. I can't look all the way across the track so that's where he comes in. He's my eyes in the sky." 
When Adi is not on the race track, he likes to watch Formula One racing with his dad on TV. 
As F1 racing is primarily a European sport, Adi's biggest inspiration with respect to racing is a former German racer Michael Schumacher. 
"My dad always talks about Michael Schumacher. He's probably my G.O.A.T.," Adi said. "He's just had a very unique style coming into racing. He was so doubted, but after people looked into him more, they realized that was the reason why he was winning. He was so dominant in the sport. Every time I race, I try to be like him."
Other than his dad, Adi's biggest supporter is his best friend CHS junior Logan Fineberg, who he met at Coppell Middle School East.
"He's so persistent on whatever he tries to do," Fineberg said. "He doesn't care what people think about him. He is good about keeping boundaries and limits." 
After watching racing for several years, Adi utilized his first race as a guide and stepping stone for his future in racing. 
"I came in with a lot of confidence," Adi said. "I was really excited because I've been watching racing for so long, and I was finally in a position to do something with it. I definitely learned a lot from it. I saw people that were faster than me and I saw what they did. I didn't win the first race. It just motivated me to get faster. It was really exhilarating. It is something you don't really experience with anything else."
Adi thinks racers have all sorts of racing styles, from smooth and soft to intense. His racing style tends to be on the aggressive side and his opponents have told him about it. 
Furthermore, Adi loves sharing his racing experiences with his friends, family and teachers because he thinks people that care about him should know what's happening in his life. 
"Every interaction where he talks about racing, I look forward to hearing about his progression in racing because you see the light and he gets so excited about it," CHS IB English teacher Stephanie Spaete said. "What stands out is when he talks about what he loves." 
The classroom lights up as Adi walks into the classroom with a smile. 
However, sometimes Adi's well wishers think that he can get ahead of himself which can lead to errors in his racing techniques. 
"With racing, he's just starting out and he's learning how to maneuver and pace himself," Spaete said. "That's one thing that we keep talking about. He says sometimes he gets trigger happy and goes too fast. I think that's a perfect metaphor for life and classwork. You can't go all in."
As advancing to high-class racing leagues is expensive and requires connections, Adi wants to stay connected to cars in a different form. He aspires to become an engineer that specializes in engine design for cars. 
Nevertheless, Adi's personality shines in racing and in the classroom. 
"One thing that is unique to Adi is that right when he walks in the door, he's smiling, he has something to share (mostly about cars)," Spaete said. "He makes it a point to get to know you and tell you what's happening in his life. He's very fun and animated." 
Follow Varshitha (@varshitha1128) and @CHSCampusNews on Twitter.